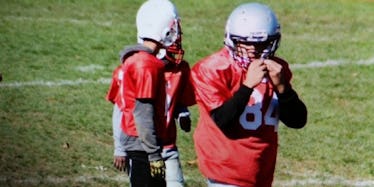 A Grown-Ass Man Suited Up To Play Pee Wee Football, Immediately Kicked Out
Twitter
It looks like the season just got a lot shorter for the Capital City Buccaneers.
It wasn't through any fault of their gameplay, but mostly because their coach is obviously a nut job.
Honestly, this story reads like "Never Been Kissed" meets "Scooby Doo." An adult person goes back to school and wears a mask to try to trick his rivals.
Not only was the team kicked out of the league, which is a shame, but the coach of the Providence, Rhode Island youth football team was fired, which makes total sense.
Why? Because his secret weapon was a grown-ass man of at least 18 and possibly up to 20 years of age facing off against 13- and 14-year-olds.
The dude didn't even make it to the field before parents were like "Hol' up..." They started taking pictures while he was on the sidelines.
While the Buccaneers were losing, he suited up at halftime. He was part of a number of plays before getting swiftly kicked out.
Honestly, this is such a bizarre plan. I can't help but try to correlate it to movies I've seen.
There had to have been a Will Ferrell movie that had this exact plot, right?
The founder of the team Alexandra Diaz told NBC 10 News,
I was more furious and embarrassed and ashamed that they did that. The coach told me it was his decision. It was his mistake. He feels sorry.
Diaz fired the coach and ended the season. The player is an older brother of another player on the team.
A parent even said they know boys that age are starting to get facial hair, but this player had full facial hair and arm tattoos.
Diaz was not at the game while the older player took to the field, she had stepped away for a few minutes. She added,
If I was there, that would never ever happen because safety of these kids is more important to me than anything. That's not how I run my program. It hurts me, it hurts the community, (and) it hurts the children because a lot has been ripped from them.
Like what was going through this coach's head?
"Hey, Sam. That big brother of yours... he free this weekend? We have an extra large jersey and I've schemed me up somethin' good."
Nelson Pedro, the league vice president, was at the game because he's also the president of the opposing team, the Tri Town Titans. He has not mentioned if the League will permanently ban the Buccaneers, but has said,
It's pretty serious. It's basically a grown man going up against seventh and eighth graders -- 13 and 14 years old. We're certainly extremely concerned when a child could have easily gotten hurt if we hadn't recognized it pretty quickly.
Citations: Youth football coach fired for allowing man to play in game against kids (NBC)