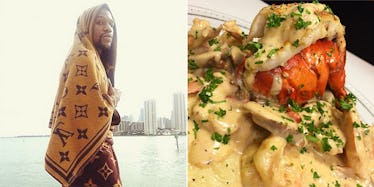 Floyd Mayweather Pays His Personal Chef $1,000 For Every Single Meal (Photos)
Instagram
As Floyd Mayweather prepares for the fight of the century against Manny Pacquiao on May 2, he's getting his mind right.
And that comes with relentless preparation in the gym, mental clarity and, of course, a personal chef who charges $1,000 for every meal.
Meet the Money Team's official cook, Chef Q.
Get one thing clear: She's not just your ordinary personal chef.
Apparently, she's going to be cooking for Floyd until the day he dies.
If Floyd is going around raving like this, you already know she has to be cooking up that fire. Money Mayweather has one of the most expensive tastes and refined palates in the world!
The fact he wants her to cook every meal and is willing to pay $1,000 for a plate says everything we need to know.
If you want to know how Floyd Mayweather is living (and, most importantly, eating) then check out the realness below.
Floyd Mayweather knows what it takes to eat good.
Apparently, that exact price is $1,000 per plate.
I did the math, and he could pay up to $3,000 for food just for himself each day!
For breakfast, Floyd starts off with some simple waffles and pecans...
...and some of the cheesiest damn eggs you'll ever see in your life.
A few more breakfast items are also always available.
That's followed by a light workout at the gym...
...and some light cardio at the department store (designer only).
By lunch, he's eating lobster.
And nothing like turkey taco cups for a light afternoon snack.
What's life without bread pudding?
Not even Money Mayweather knows what to do with all this food.
Of course, balling out always makes you hungrier.
Time for Floyd to work out and build up an appetite for dinner.
Don't worry, salad is usually involved at this time.
Of course, Floyd only eats salad with shrimp in it.
For the main course, he might f*ck around with a filet mignon...
...and some lobster as a side.
All chicken breasts should, realistically, be wrapped in bacon.
For dessert, Chef Q always keeps it light with some banana pudding cups...
...and maybe all the cookies in the damn closet.
After that, Floyd is going to need to hit a quick workout.
He'll follow up with a little more unwinding.
And, what the hell, let's run back that breakfast and have some steak and eggs!
Citations: Floyd Mayweather Is Rich Enough to Afford a Personal Chef Who Charges 1000 Per Meal (Complex )