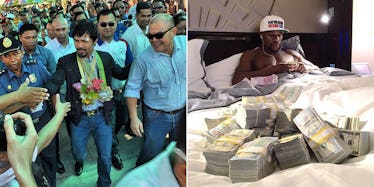 Pacquiao And Mayweather's Daily Lives Couldn't Be More Different
Instagram
Floyd Mayweather and Manny Pacquiao will share the stage this Saturday in what's anticipated as the super fight of the century between two men who couldn't be more polar opposites.
The hype leading up to the event has been well-documented, and we all know exactly what both of these men bring to the table.
With that said, it's pretty much guaranteed to be one for the ages.
Win or lose, it's what these men do outside of the ring that will have lasting impacts on their legacies.
We're familiar with both of them by now and know what drives each of these men to achieve greatness.
The force motivating each of them tells us what we need to know. And the way they live outside of the ring tells us even more.
Whether one of them does it for his family or if the other does it for himself, both men have achieved a level of success that isn't easily matched.
On May 2, two of boxing's greatest will finally meet...
But Pacquiao and Mayweather have very different approaches when it comes to the big fight.
Manny is more focused than ever with his training...
...while Floyd just keeps making it look too easy.
Pacquiao may be one of the most aggressive fighters in the sport...
...but he's going up against (arguably) the greatest defensive boxer of all time.
By the time Mayweather hits the ring, expect to get your pay-per-view money's worth.
And you might want your money back if Pac-Man actually decides to sing during his entrance.
However, it's outside of the ring where the two men are on completely different paths.
You can tell by the circles they hang out in...
...and how they spend their free time away from the gym.
Make no mistake, both of these guys are great fathers.
But just like their boxing styles, they have different ways of showing their love.
Mayweather is, of course, worth an estimated $280 million...
...while Pacquiao is worth around $110 million.
Floyd is the type of guy who will pay his personal chef $1,000 per meal...
...while Pacquiao is still on that Filipino home-cooking.
And let's just say they have different ideas when it comes to having a good time.
Floyd Mayweather doesn't really believe in keeping his money in the bank...
...or staying down with one girl.
At least not like Manny Pacquiao!
Sure, Pac-Man has his own Ferrari for when he's in California...
...but he doesn't have a whole fleet that includes a private jet like Mayweather.
It's safe to say Pacquiao is pretty a humble superstar.
As for Mayweather, who wouldn't pay to be bathed every morning?
If Mayweather wins, don't be surprised if he gets a little disrespectful.
And win or lose, we all know what Pacquiao will do.
It's clear both men have most of their differences out of the way now...
...but none of that will matter come fight night.