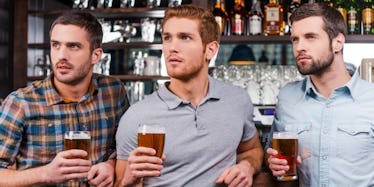 How To Successfully Hit On A Guy At A Bar During NFL Wild Card Weekend
Getty Images
Talking to the opposite sex, especially in a flirtatious way, doesn't come easily to everyone -- and certainly not to me.
Up until very, very recently, my idea of hitting on a guy involved being silent and making occasional eye contact (and then probably turning bright red). Needless to say, it didn't yield the best results.
Then I got a job at Elite Daily. I began reading and editing sports stories on a daily basis. I realized I could bring up a key sporting event or player, and my modest understanding of the World Series or Marshawn Lynch could carry me through a brief conversation with almost any male at a bar.
Soon, however, my limited sports knowledge began to wane. There are only so many times you can (successfully) mention Tottenham Hotspur and that commercial with Jason Sudeikis before it becomes completely irrelevant.
But it's a new year, I'm still single, and I'm not giving up on this tactic just yet. It's worked before and, according to the male sports writers who kindly helped me out with this article, it'll work for anyone... if you know exactly what to say.
This weekend, January 9 and 10, is NFL Wild Card Weekend. Any bar you walk into will be full of people talking about seeds, the AFC, the NFC and whatever teams they're rooting for.
And if you, like me, don't care that much about sports and are incredibly bad at small talk, trying to hit on a guy at a sports bar can be intimidating. It's loud, everyone's drunk and you're not exactly sure who [insert a player's name here] is. Don't worry, though. It isn't as hard as you think.
You just have to know the general gist of what's going on and a few keywords and phrases. And if I can do it, you can too.
What is Wild Card Weekend?
Let's start with the basics.
Yes, Wild Card Weekend has to do with the Super Bowl, but that isn't until February 7. Basically, this is the initial round of the NFL playoffs.
Eight teams compete to see who will eventually play the top four teams of the entire season: the New England Patriots, Carolina Panthers, Denver Broncos and Arizona Cardinals.
This year, the Kansas City Chiefs, Houston Texans, Pittsburgh Steelers, Cincinnati Bengals, Seattle Seahawks, Minnesota Vikings, Green Bay Packers and Washington Redskins will play for spots in the divisional round. Considering they're all pretty evenly matched, it should be interesting.
AFC Game 1: Chiefs vs. Texans
The attention grabber: Luckily, Saturday's first game will be an easy one to start with: Everyone knows JJ Watt, Houston's star defensive end. You can definitely bring him up, but for the sake of the guy whose number you're trying to get, don't focus on how hot JJ is (I know, that will be tough).
Watt heads up an excellent defense, so segue into talking about Brian Hoyer, the Texans' quarterback. Is he going to be able to put up enough points to pull out another win for Houston?
The follow-up: Remember, the best defense is a good offense.
Once you have your target's attention, knock it out of the park with a question that seems pretty deep but is actually broad enough to keep you from looking like a poser (at least for a while). Could either of these teams REALLY beat Kubiak's Broncos or Belichick's Patriots?
AFC Game 2: Steelers vs. Bengals
The attention grabber: You can start a conversation by simply saying the Bengals have no shot at winning this game.
If anyone asks you to explain, here's your response: Cincinnati is playing with backup quarterback AJ McCarron because Andy Dalton is hurt (fractured right thumb). If the small talk stagnates, admit to your ignorance. Neither of these is really your team, anyway.
The follow-up: Since the Steelers will (almost definitely) win and could end up playing the Patriots in the AFC championship, comment on how great a game that would be.
NFC Game 1: Seahawks vs. Vikings
The attention grabber: It's Sunday and you're probably still hungover and exhausted from the games on Saturday, but you got this. Vikings coach Mike Zimmer recently called out Teddy Bridgewater (his quarterback) about how he "needs to play better."
Is that why he just threw an incomplete pass? I don't know and you probably don't either, so if you're forced to keep talking about it, fall back on which team you believe will win. The Seahawks, because of all their playoff experience (played in the last two Super Bowls), obviously...
The follow-up: This is truly your time to shine. Seattle's quarterback, Russell Wilson, is currently dating Ciara.
Word on the street is they aren't having sex until they're married. Could it be affecting his performance? Is her ex, Future, actually just motivating him to play even better? You have plenty of options.
NFC Game 2: Packers vs. Redskins
The attention grabber: This is the very last game of Wild Card Weekend, so you have to go out with a bang. Now's the time to get analytical; show him you truly understand the nature of the game.
Basically, a few weeks ago, it looked like the Packers would win as the Redskins are notoriously bad (double-check you're not hitting on a Washington fan).
Either way, be sure to mention how the Redskins are getting to play on their own turf, which might help them advance to the next round.
The follow-up: But could Gruden and the Redskins beat the Cardinals or Panthers down the road?
If all else fails, throw a Hail Mary and yell any of these:
"His arm was coming forward!" (any time a quarterback might've fumbled) "His knee was down!" (when a player with the ball falls and fumbles) "Holding!" (literally at any moment) "He got two feet in!" (when someone makes a catch and no one knows if it actually counted) "You like that?!" (any time a big play happens) "Dab on 'em!" (whenever you feel like it)
Good luck this weekend, I believe in you...
But if you forget everything you just learned, you can always pull this article up at the bar on the Elite Daily app.