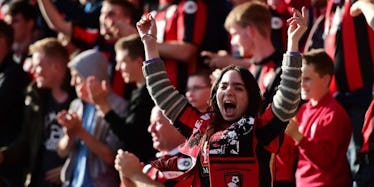 Meet The First Transgender Person To Work In The English Premier League
Getty Images
Sophie Cook was scared she'd be met with abuse and taunts when she revealed the transformation she made from her former life as a man, but the reality was anything but.
Sophie, formerly known as Steve, works as a team photographer for AFC Bournemouth in the English Premier League, and she is now officially the first openly transgender person to work in the highest division of English soccer.
The 48-year-old was recently introduced to the entire squad with support from the team's manager, Eddie Howe, and chairman, Jeff Mostyn.
Call me Sophie - http://t.co/UYMkrRb5Ux pic.twitter.com/mDSFXyyYNJ — Sophie Cook Talks (@sophiecooktalks) August 15, 2015
Speaking about the moment, Sophie reportedly said,
The assistant manager called the players together and said, 'You'll probably notice our photographer has changed a little from last season, lost a bit of weight, and grown her hair out a bit. I'd like you all to meet Sophie.' I had no idea how they would react but suddenly the captain started clapping and the rest of the boys joined in. I haven't looked back. It feels amazing.
Bournemouth's photographer reportedly identified as a woman since childhood, but after a match last season, a "switch" reportedly went off in her head, forcing her to begin the process of becoming her true self.
Sophie has a 12-year-old daughter and a 15-year-old son, and she said her wife knew she was transgender when they first found each other.
According to Daily Mail, she explained,
My wife knew I was transgender when I met her but when our son was born disabled and we nearly lost him, I [realized] we already had enough to deal with and I couldn't put my family through it. I took Sophie, put her in a box and buried her for 15 years of hell.
Sophie reportedly added,
When I told my wife after the Leeds game, she said she always knew it would come back. She's a wonderful woman and though we are no longer man and wife, we are best friends.
Sophie's kids have been equally supportive to her life-changing transformation.
Sophie reportedly said,
All my daughter wants to do is go make up shopping together and she even said to me once after I posted a poem on Facebook to thank Steve for his strength over the years, 'You're my hero. Steve was great but Sophie is better.'
As a former jet engine technician in the UK's Royal Air Force, Sophie did more in her life than most could ever dream of.
Now, in addition to her work as a photographer, she travels around England to give motivational talks.
Grab life by the balls, overcome fear - Bournemouth, Portsmouth, Brighton Jan-Feb 2016 shows https://t.co/U4DFuiklth pic.twitter.com/hHaecn9uHe — Sophie Cook Talks (@sophiecooktalks) December 20, 2015
Those closest to Sophie reportedly feared her announcement would be met with insensitivity and cruelty, but that hasn't been the case.
Sophie reportedly said,
Some of my friends feared all sorts of chants or abuse shouted at me. It hasn't been like that at all though and I've been totally accepted by the players and fans and I am so grateful to finally just be me.
If there's one thing we can learn from Sophie, it's to never shy away from who we are.
Citations: Football team's photographer who went from Steve to Sophie becomes the first trans person working in the Premier League (Daily Mail)