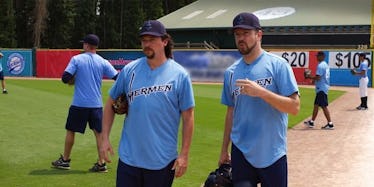 10 Fictional Athletes And The Real Teams That Should Sign Them
HBO
Whether you realize it or not, sports movies have become integral parts of American culture.
And by extension, the characters from those sports films have, in some cases, gained just as much fame as our actual favorite athletes.
Duke's Mike Krzyzewski might be the winningest men's basketball coach in NCAA history, but Herman Boone and Tony D'Amato jumped off the screen and into our hearts and minds.
What if your favorite athletes from cinema and television could actually play for the teams you root for?
The Steelers need some help at outside linebacker, but who would be a good fictitious fit? The Knicks, well, the Knicks need to start somewhere, but what issue should they address first?
Think no more. We did some "research" to come up with 10 fictional athletes and the real teams that would benefit from having them on their rosters.
Willie Beamen from "Any Given Sunday" -- Quarterback, New York Jets
The New York Jets are heading into their third season with Geno Smith at the helm, and as many a Jets fan will tell you, it's time for a change under center.
Sharks quarterback Willie Beamen is the change they need. Beamen, while a bit self-consumed early in his career, figured things out and put it together on the field when it mattered most.
Remember his heroics in the first round of the AFFA playoffs? He ran that game-winning touchdown to lead his Sharks to a road upset of the Dallas Knights.
Ya, Beamen reportedly signed with Albuquerque Aztecs, but financial incentives and the bright lights could probably bring him to New York.
A versatile young quarterback, who can do it with his arm and his legs, Beamen is the guy Todd Bowles needs in order to start his NFL head coaching career on the right foot.
Rick Vaughn from "Major League" -- Pitcher, Toronto Blue Jays
The Toronto Blue Jays haven't made the playoffs since they won the 1993 World Series. And I'm not saying they're one piece away from a ring, but signing a vetted reliever would certainly be a step in the right direction.
Currently, the Jays are without a closer and a right-handed setup man, and Rick "Wild Thing" Vaughn could slot into either of those roles. In addition to his revamped cannon of an arm, Vaughn's leadership would also be an asset in the clubhouse.
Vaughn really proved his guts and his skill during Game 7 of the ALCS between his Cleveland Indians and the Chicago White Sox.
With Cleveland holding a slim 6-5 lead in the top of the ninth, Vaugh is called in from the bullpen with two outs and two on. He intentionally walks a player to get to Chicago's best hitter, Jack Parkman, and then proceeds to strike him out on three pitches.
Game. Set. Match.
Jesus Shuttlesworth from "He Got Game" -- Shooting Guard, Philadelphia 76ers
As the pride of Lincoln High School, Jesus Shuttlesworth is a dual-threat guard who can score at the rim and from the perimeter.
The Philadelphia 76ers, at 17-53, are in the midst of one of their worst seasons in franchise history. As a young team that will have a top-five pick in the next NBA draft, Philadelphia would be an ideal fit for Shuttlesworth.
At 34 years old, Jason Richardson currently "holds down" the starting shooting guard role, but Jesus could replace him in a minute. From heroics with Lincoln to clowning dudes on the pickup courts of New York City, Jesus is the next piece in the 76ers' rebuilding puzzle.
Kenny Powers from "Eastbound & Down" -- Pitcher, Texas Rangers
Having already spent time with the Myrtle Beach Mermen, a minor league affiliate of Texas, Kenny Powers would slide seamlessly into the Texas Rangers' rotation.
Last season, Texas' starters combined for a 4.75 ERA, which was the second-worst in the American League. Kenny Powers, as the "Real American" he is, would not only fit into the rotation, he'd also easily appreciate the Texas lifestyle.
Provided he stays away from steroids, Kenny could muster the strength to help Texas chase an AL Central crown.
Hey, if Bartolo Colón can be the New York Mets' opening day starter in 2015, anything is possible.
Sidney Deane from "White Men Can't Jump" -- Power Forward, Washington Wizards
Led by a backcourt of John Wall and Bradley Beal, the Washington Wizards have built a playoff contending team in the East.
Last year, they made the playoffs for the first time since 2008 and were defeated in a hard-fought Eastern Conference Semifinal against Indiana.
While their backcourt appears to be set, the power forward position is certainly up in the air. At 32 years old, Nenê Hilário is no longer getting it done.
Enter Sidney Dean, a raw, but physically gifted forward who would bring a real spark to this Washington team. He offers a physical presence down low, yet he can still sink shots from the outside.
Sure, Washington isn't exactly Los Angeles, but does a streetballer really value weather over millions?
Charlie Conway from "The Mighty Ducks" -- Center, Toronto Maple Leafs
Sitting 24 points off the last Wild Card spot, with no shot at the postseason, the Toronto Maple Leafs have had just one playoff appearance in the last decade.
The franchise has many holes to plug if the team is to contend next season, but the acquisition of a young center could go a long way to reversing their current fortune.
Is Charlie Conway that center? I think he is.
From his peewee days with Minnesota's District 5 Ducks to leading the Eden Hall JV Warriors to a thrilling underdog victory against the varsity squad, Conway has been groomed for NHL greatness.
A dude with both heart and talent, Conway is the ideal player to help lead this once-prominent Canadian franchise back to the Stanley Cup promised land.
Willie Mays Hayes from "Major League" -- Center Fielder, Baltimore Orioles
Following his failed attempt at Hollywood stardom, Willie Mays Hayes rediscovered his love for baseball.
And that's great news for the Baltimore Orioles.
After losing Nelson Cruz to the Mariners and Nick Markakis to the Braves, the Os are in serious need of some outfield help.
Willie Mays Hayes, a center fielder by trade, isn't a like-for-like replacement for Cruz or Markakis, but he does bring some much-needed speed to a team that finished dead last in stolen bases last season (44).
Last season, the Orioles tasted playoff baseball for the second time in the last 17 years. They'll be keen to do whatever it takes to get back there this season, and that involves adding Hayes to the lineup.
Julius Campbell from "Remember the Titans" -- Outside Linebacker, Pittsburgh Steelers
Giving up just 100.3 yards per game on the ground, the Steelers' run defense ranked sixth overall in 2014, but surrendering 253.1 yards per game through the air meant their pass defense was ranked 27th out of 32.
Julius Campbell, a physical outside linebacker who made his name with TC Williams High School in Virginia, would be the perfect edition to help sure up the Steelers' pass-rushing woes.
Campbell's stock rose in part because of a game-changing forced fumble against Marshall during the Titans' championship game. And the Steelers, with a reputation for having a stout defense, would benefit greatly from Campbell's services.
Pittsburgh, a team that fell short in the playoffs last season, could see a third Super Bowl appearance in 11 years with a move like this.
Neon Boudeaux from "Blue Chips" -- Center, New York Knicks
A blue-chipper in every sense of the term, Neon Boudeaux would be an ideal centerpiece for the Knicks to build around in the coming years.
Fresh off leading his Western University Dolphins to an upset win over Bob Knight's first-ranked Indiana, courtesy of a buzzer-beater jam, Boudeaux is ready to light it up at Madison Square Garden.
At 14-56, the Knicks are in dead last in the NBA. Signing Boudeaux, coupled with a possible number one pick in the draft, could see the blue and orange return to promin… relevance, sooner rather than later.
Y'all remember the last time the Knicks had a great center, right?
James Earl "Boobie" Miles, Jr. from "Friday Night Lights" -- Running Back, Jacksonville Jaguars
Boobie Miles is a standout individual talent at running back. The Jacksonville Jaguars, ranked 21st overall in rushing last season, have Toby Gerhart as the number one running back on their depth chart.
The Jags haven't made the playoffs since 2007, and with Maurice Jones-Drew bolting for Oakland after 2013, the team is in desperate need of an every down running back to take the heat off second-year quarterback Blake Bortles.
Miles has tremendous speed and an almost supernatural ability to read the defense, hit the holes and cut on a dime. And once he gets into the secondary, good luck trying to wrap this dude up.
Jacksonville hasn't won more than five games in a season since 2011, but with Bortles and Boobie on offense, the future would certainly look a lot brighter.