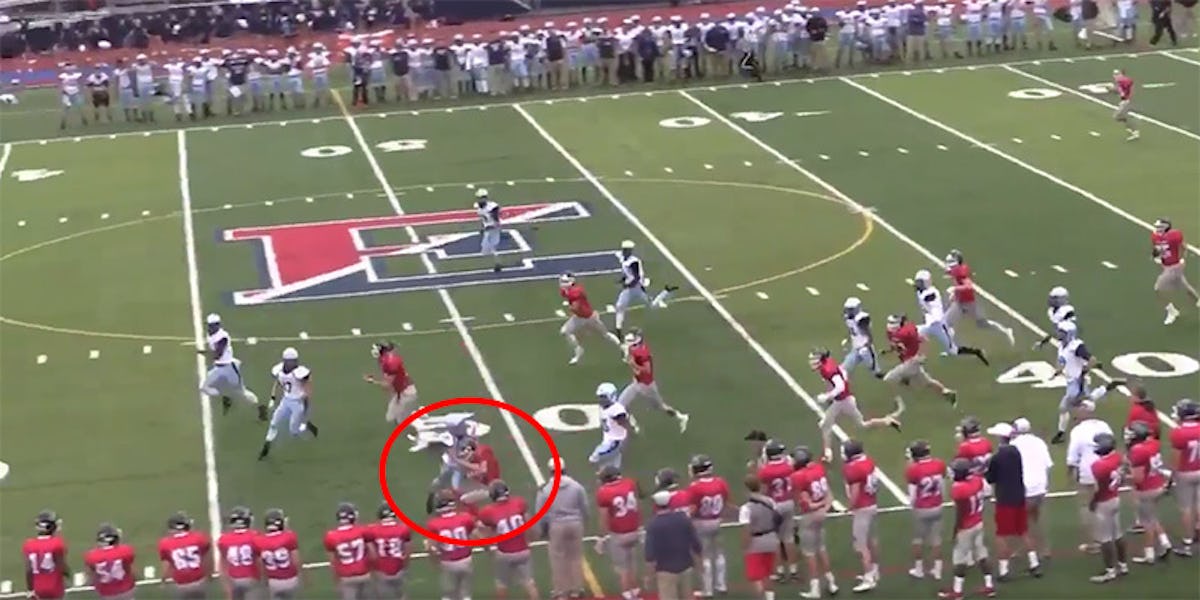 Female Kicker Becomes Football Legend After Laying Out Opponent On Return
Twitter/Kelly Macnamara
There's no other way to put it: She rocked him.
During a game against Central Bucks East High School in Pennsylvania, North Penn kicker Kelly Macnamara absolutely drilled her opponent with a tackle that got her teammates fired up.
Macnamara posted the video on Twitter herself.
7-0 pic.twitter.com/E0GQonDe2Y — Kelly Macnamara (@kellmac_) October 9, 2016
The video starts with Central Bucks East receiver Wes Verbit receiving a reverse pitch before gaining steam as he heads down the sideline. He looked like he was headed for glory.
That is, until this happened:
Of course, the junior player couldn't resist flaunting the moment with a little humble brag. She captioned the clip "7-0," which is North Penn's record on the season.
Since she delivered the big hit on Friday, Macnamara's highlight has been circulated by ESPN, Sports Illustrated and USA Today, among others. And it's clear why it's such notable news, too.
First, kickers are literally the last football players fans would expect to get physical. So, when they actually deliver big hits, there's high potential for headline news.
Second, the fact sadly is that female kickers are few and far between. They exist... but you have to work hard to find them.
In fact, Macnamara became the first female kicker in her high school's history after she tried out last season.
#FOOTBALL: @KnightsLoyalty's Kelly Macnamara hits 32-yard field goal at end of 1st half for 38-0 lead vs. Pennsbury. pic.twitter.com/5TR3XLfhuV — Mike Cabrey (@mpcabrey) September 10, 2016
These days, she's the fourth-best kicker in her state, according to high school sports website Max Preps.
While Macnamara wasn't too boastful about the hit -- "I just did my job," she told CBS Philly -- her dad seemed pretty excited.
Ray Macnamara told CBS 3 News,
I thought it was pretty cool. We kind of saw it developing, and I thought she might just push him out of bounds, but she didn't. She hit him. The sidelines and the bleachers just went nuts. It was just a really great moment.
As for her opponent? Verbit had good words and a handshake for Macnamara.
Verbit told CBS 3,
She made a great play. She's a football player. It's about respect, and all my respect goes to her.
Verbit's clearly not alone. Because now, the internet is giving her respect too.
Citations: CBS Philly, SB Nation