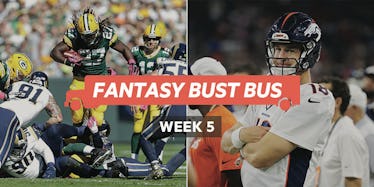 Fantasy Bust Bus: Nine Players Who Forgot To Show Up In Week 5
With the conclusion of yet another NFL week, it's time to lick our wounds and call out those who came up short of our fantasy football expectations.
Seriously, it's getting so bad out here -- at least for my team -- that everyone should consider ditching traditional fantasy leagues and exclusively playing DraftKings and FanDuel.
At least you'd feel less of an attachment to the same players every week and not have to deal with shady trades, right?
Anyway, there were plenty of candidates who turned in sub-par performances this week, but only nine could grab their seats on the Fantasy Bust Bus.
From QB to D/ST, here's the starting squad that disappointed the most in Week 5.
*Stats are based on ESPN PPR scoring, with six points awarded for each quarterback touchdown.
QB Peyton Manning: 6 points
The Denver Broncos may be 5-0, but Peyton Manning is having one of the worst statistical seasons of his 18-year career. Still, Peyton is owned in almost 100 percent of ESPN fantasy leagues, which makes for a whole lot of disappointed fantasy owners.
After throwing two interceptions and zero touchdowns this week, the 39-year-old collected just six fantasy points. Time to reconsider your options at the quarterback position?
RB Eddie Lacy: 3 points
The Green Bay Packers are yet another undefeated team who aren't getting production out of one of their biggest offensive stars. Running back Eddie Lacy has rushed for just one touchdown this season and tallied just 41 total fantasy points.
This past Sunday, the Pack bested the Rams, but Lacy rushed for a mere 27 yards and earned only three fantasy points.
RB Jamaal Charles: 8 points
Well, it looks like Jamaal Charles' 2015 season is over. The Kansas City Chiefs' running back reportedly suffered a torn ACL against the Bears on Sunday, which means fantasy owners will have to resort to desperate measures to rescue any potential playoff hopes.
Before his injury, Charles picked up 67 yards on five carries and netted fantasy owners 11 total points. This is a huge blow to Charles, the Chiefs and everyone who wasted a first round pick on JC.
WR Calvin Johnson: 11 points
The Detroit Lions haven't won a game in 2015, and the man they call Megatron has looked unbelievably average during their five-game stretch. Calvin Johnson has hauled in only one touchdown this season and has failed to break the 100-yard receiving mark in any game.
This past Sunday, Johnson caught five passes for 67 yards and failed to help the ailing Lions put up anything even resembling a fight against the Arizona Cardinals.
WR Demaryius Thomas: 10 points
Considering how poorly Peyton Manning has played this year, Demaryius Thomas is having himself a hell of a fantasy season. This past Sunday, though, that good form took a big hit.
Despite Denver's win, Thomas finished with just 55 total receiving yards. His 10 fantasy points are a season low for the 27-year-old.
TE Charles Clay: 1 point
Buffalo may have gotten back to winning ways on Sunday against the Titans, but tight end Charles Clay had by far his worst performance of the season. Despite carrying an 11-point projection into Week 5, Clay finished with just one catch for seven yards.
That one fantasy point probably did little to help Clay's fantasy owners this week.
W/R/T Randall Cobb: 5 points
Aaron Rodgers, similar to Tom Brady, is known for spreading the ball around to his receivers, so it could be feast or famine for anyone in Green Bay's offense. However, wide receiver Randall Cobb has become Rodgers' clear go-to guy.
Unfortunately, that wasn't the case on Sunday. Green Bay continued their undefeated start to 2015, but Cobb totaled just 23 yards on three catches.
K Greg Zuerlein: 2 points
Would anyone be surprised if Greg Zuerlein got the boot this week? The St. Louis Rams kicker connected on just one of his four field goal attempts Sunday, which left him, and fantasy owners, with two total points.
St. Louis lost to Green Bay 24-10, and while it's certainly not all Zuerlein's fault, fantasy owners can't see past three missed field goals.
D/ST BALTIMORE: -3 points
To say it's not the Baltimore Ravens' year would be something of an understatement. Following their 33-30 loss to the Browns in overtime this weekend, Baltimore falls to 1-4 on the season.
A team that for years was synonymous with defense has given up 137 points already this year and has produced negative fantasy performances twice. Yesterday's -3 scoreline accentuates how bad this group is right now and how sick some fantasy owners are.
TOTAL: 43 POINTS