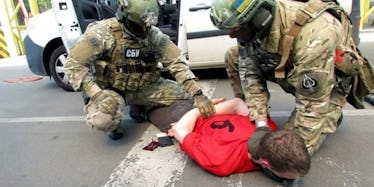 Insane Video Shows Cops Arresting Man Allegedly Plotting Euro 2016 Attack
REUTERS
In the above video, it appears 25-year-old Frenchman Gregoire Moutaux is being arrested by Ukrainian forces after he was allegedly plotting to attack Muslims and Jews at UEFA Euro 2016.
According to reports, Moutaux was armed with five AK-47s, two grenade launchers, 125 kilograms of TNT and 5,000 rounds of live ammunition.
He reportedly faced a variety of terrorist charges Monday stemming from that arrest.
Moutaux was reportedly a farm worker who was convinced immigrants were taking over his native France, and he was reportedly planning to attack Muslim and Jewish holy places of worship, as well as large crowds at UEFA Euro 2016, the continent's soccer championship slated to begin in France on Friday, June 10.
Speaking on the arrest, which was reportedly made on May 21, a member of the Ukrainian security service reportedly said,
We were able to prevent fifteen terrorist acts that were planned in France on the eve of and during the European Championship football.
Speaking on the arsenal of weapons Moutaux had reportedly stockpiled to use at Euro 2016, that same Ukrainian security service agent reportedly said,
He obtained five Kalashnikov rifles, more than 5,000 bullets, two anti-tank grenade launchers, 125 kilogrammes (275 pounds) of TNT, 100 detonators, 20 balaclavas and other things.
Following Moutaux's reported arrest at the Ukraine-Poland border, police raided his home in Nant-le-Petit, France and subsequently found chemicals for making explosives, five balaclavas and some neo-Nazi t-shirts.
Following a string of recent terror attacks in Europe, France was already on high alert heading into Euro 2016. Now, after news of Moutaux's plans to attack at the tournament, we all are most likely going to see unprecedented security measures in the coming days and weeks.
The above video is somewhat frightening to watch, but let's be thankful forces were able to intervene and nab Gregoire Moutaux before he was able to carry out his alleged attacks.
Citations: Frenchman 'who planned 15 terror attacks targeting Muslims and Jews during Euro 2016 because he was sick of mass migration and spread of Islam' is arrested with weapons haul in Ukraine (Daily Mail)