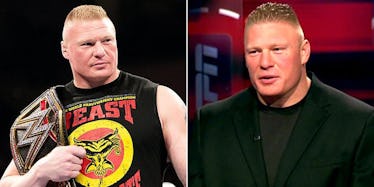 ESPN's Coverage Of SummerSlam Means WWE Is Becoming A Mainstream Sport
Twitter
The WWE is one of the biggest companies in the world.
Still, it has challenges when it comes to getting the same mainstream coverage other major American sports receive.
However, this Sunday at SummerSlam, WWE is making a new leap that will put them right up there with all the other professional sports leagues like the NFL, NBA and MLB.
"SportsCenter" will be reporting live from Barclays Center in Brooklyn before the show and will be giving the WWE that true ESPN coverage.
Whether you consider it pro wrestling or sports entertainment, these athletes are among some of the most physically gifted in the world, and finally, ESPN is acknowledging that.
One of the biggest reasons ESPN is covering WWE is believed to be because of anchor Jonathan Coachman.
Honestly overwhelmed at the news of us coming to @wwe Summerslam. Will be a blast. Check out twitter,espn/wwe.com, and tv. Have a blast. — Jonathan Coachman (@TheCoachESPN) August 18, 2015
He worked for the WWE in the past and was known for his interviews with stars like The Rock.
In fact, he even interviewed Dwayne Johnson at ESPN recently.
ESPN did some coverage after Wrestlemania 31 in February...
And even had an "E:60" about their developmental system, NXT.
But never have we seen live coverage before a WWE event, like "College Gameday."
While WWE isn't considered a true sport to all, wrestlers like Brock Lesnar are helping to break the mold.
His status as former UFC heavyweight champion helped legitimize the WWE.
Appearances by Ronda Rousey at Wrestlemania made WWE more mainstream in the sports world.
She even admitted she wants to wrestle in the WWE when her UFC career is finished in a Reddit AMA.
With Jon Stewart hosting SummerSlam this weekend, the mainstream attention continues.
Jon Stewart will host WWE's SummerSlam. pic.twitter.com/dOAb4JH3rV — SportsCenter (@SportsCenter) August 17, 2015
Brock Lesnar couldn't be more ready to prove WWE superstars are elite athletes.