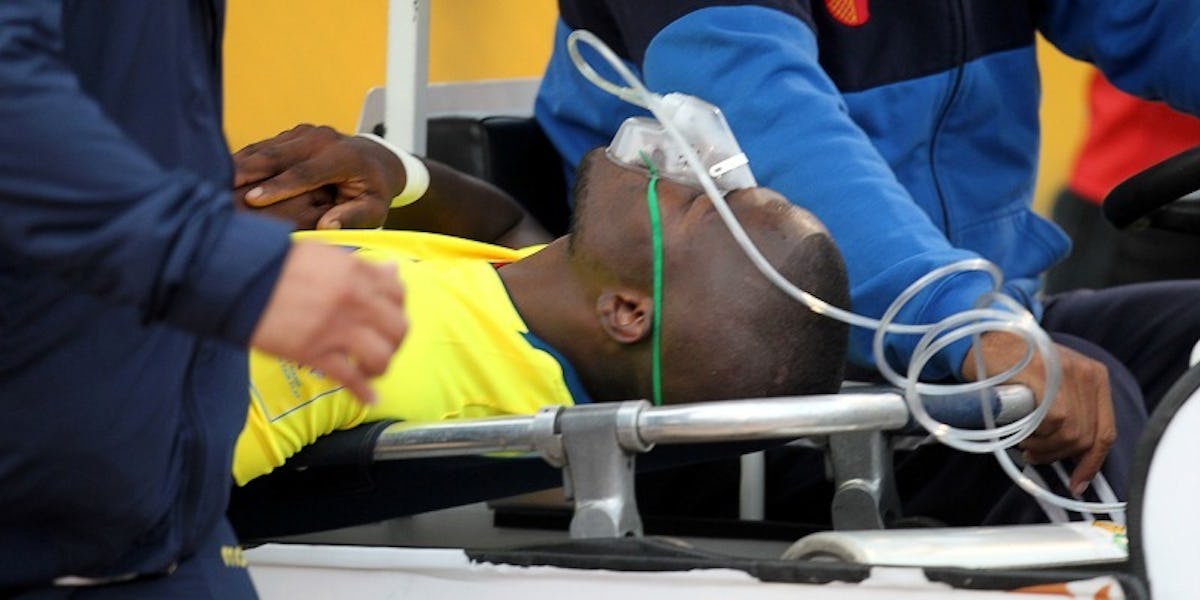 Pro Soccer Player Dodges Cops, Makes Slowest Getaway Ever Using Injury Cart
REUTERS
You really can't make this stuff up.
In today's WTF news, it appears Enner Valencia, a forward for the Ecuadorian national soccer team, actually used an injury cart to flee a soccer stadium while police chased after him.
The incident occurred during Ecuador's 3-0 World Cup qualifier win over Chile at the Estadio Olímpico Atahualpa in Quito, Ecuador.
According to reports, Valencia, who had an assist in the match, owes roughly $17,000 in unpaid child support to his ex-wife, and police showed up at the stadium to apprehend him for questioning in the case.
This is apparently the third time police have tried to get to the Ecuadorian.
Valencia reportedly came off the field earlier in the match complaining of altitude sickness, and when he got wind of the police coming after him in Estadio Olímpico Atahualpa, the 26-year-old apparently used the injury cart to evade the cops in the slowest getaway ever.
Just watch.
Yeah, I don't speak fluent Spanish, but I know what "increible" means.
Somehow, and I say that because the police clearly appear to catch up with Valencia before he can actually leave the stadium, the Ecuadorian reportedly managed to dodge law enforcement once again and make it to a hospital.
The police's previous attempts at detaining Valencia reportedly failed because "certain police officers didn't collaborate with [Valencia's] detention," according to the forward's ex-wife's attorney.
Here's a video of cops reportedly trying to get to Enner Valencia as the Ecuador team bus arrived at the Olímpico before the match against Chile.
Enner, my man, maybe you should just pay the $17k? Something tells me you can definitely afford it, being a pro soccer player and all.
However, Valencia's agent, Gonzalo Vargas, claims to have a signed order from a judge, overturning the order for the soccer star's arrest.
This story just keeps getting weirder. Honestly, I can't wait to see what the police try and do the fourth time around.
For those of you wondering, Ecuador's next game is Tuesday against Bolivia.
Citations: An Ecuadorian soccer player on an injury cart led a police chase in the middle of a game (SB Nation)