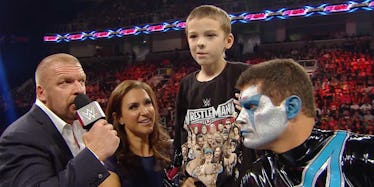 Boy With Cancer Gets Opportunity Of A Lifetime And Signs A WWE Contract
WWE Network
If you haven't noticed by now, the WWE is all for the children, and you have to commend it for making dreams come true for kids who really need it.
Stars like John Cena and Daniel Bryan even take the time to build special connections with children and really help change their lives.
However, it's not often these kids actually get to be parts of the show and have their very own contracts with the WWE.
But, that's exactly what happened to young Elijah, a little boy battling cancer.
Elijah had a very special evening during "WWE Raw" earlier this week.
Tonight's the big night for Elijah! RT @TripleH Steph & I are pleased to announce the newest @WWE Superstar, Elijah! http://t.co/t9vDfRTZ1s — Vince McMahon (@VinceMcMahon) August 3, 2015
His dream of being a wrestler came true when he signed a contract in front of the entire WWE universe.
Just blown away by Elijah...I mean Drax Shadow. He truly embodies what it means to be #ToughEnough#WWEhttps://t.co/aP8uwWwkpD — Triple H (@TripleH) August 4, 2015
Watch the full video below of Elijah with his hero, Stardust.
Citations: WWE Made a Kid With Cancers Dream Come True By Giving Him a WWE Contract (Barstool Sports)