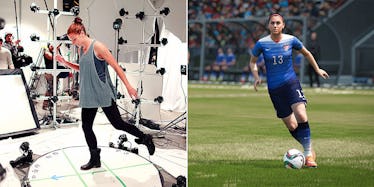 For The First Time Ever, You Can Be The US Women's National Team In FIFA
EA Sports
You're going to remember the spring of 2015.
Not because the NHL and NBA playoffs are shaping up to have awesome finales – though that's certainly part of the greater sports picture – but because the Women's World Cup is shaping up to be a watershed moment in sports history.
The tournament, which kicks off in Canada on June 6, will feature 24 teams for the first time in the competition's history.
There is more hype surrounding this US team than any since their last World Cup triumph in 1999.
And there is more media buzz, both traditional and social, surrounding the event than ever before.
Adding to the frenzy is the groundbreaking announcement that legendary EA Sports franchise FIFA will feature women for the first time in the game's history.
Yes, FIFA 16, which will launch on September 22, will feature the best female players in the world.
I sat down with FIFA producer Nick Channon to talk about the most in-depth integration of female athletes in video game history.
Channon said,
As a game, we pride ourselves on being as authentic as possible. So anything we do needs to be authentic to the sport. The anti-vision of this was just doing a female head on a man's body; that's just not what we wanted to do. We wanted to really do it justice when it came to the game.
The addition of women to the FIFA franchise is something that fans, both male and female alike, have been wanting for quite a while.
And while the announcement of the new feature may be piggybacking off the fanfare of the Women's World Cup, Channon explained adding women to the game is something that's been in the works for several years.
He said,
This isn't a World Cup game, we wanted international teams because we wanted the best players. Why now is because we've got the technology in place and all the parts in place. We wanted to do this properly, which is why we've done all these things, and it's taken us a while to get to that. It's been multiple years, not just this year at all.
Some of the things that have taken years to get right include animation, facial scanning and realistic gameplay itself.
Something as simple as the motion of a ponytail is a feature that Channon and his codesigners had never worked on before.
He told Elite Daily,
When we very early prototyped, we realized there was a lot of work we needed to do to bring women to life. We had the entire Canadian national team come into our studio. We had Alex Morgan, Abby Wambach come into the studio as well. And they're all very, very excited to be a part of this. I think it's fair to say that FIFA resonates to a lot of people, but it really resonates with professional soccer players – be it male or female.
In total, FIFA 16 will feature 12 women's national teams. And I can tell you firsthand the gameplay is as realistic as possible.
When asked what he's most pleased with in regards to the historic addition to the FIFA franchise, Channon doesn't balk at the impact this will have on soccer lovers everywhere.
He said,
We're really excited to announce this. We know that people have wanted us to do this. I think what I'm most proud of is that it looks great. We've done it the way we wanted to do it, making it as authentic as we possibly could.