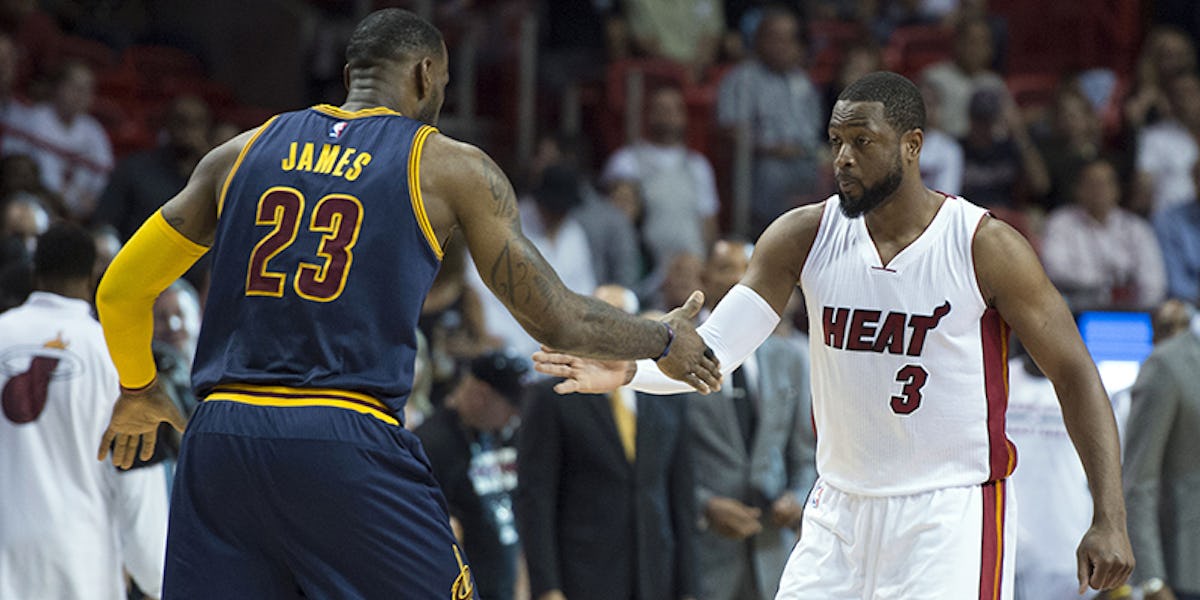 Dwyane Wade Said It's 'Not Possible' For LeBron To Surpass Michael Jordan
USA Today Sports
Dwyane Wade had a simple answer to the question of whether or not LeBron James could surpass Michael Jordan's legacy as the greatest basketball player of all time: no.
When he was asked about the prospect of James surpassing Jordan, Wade told ESPN, "It's not possible."
He later went on to add,
You can't go past it. How can you? That's as great as it gets, man. The only thing you can do, like I said, is be A-1, A-B. There's no way higher.
Wade's comments come at a period in LeBron's career when the comparisons to Jordan are more frequent than ever.
And it makes sense, too. After all, LeBron has already won MVP awards, captured his first ring in Miami and brought a title to Cleveland.
Now, with LeBron James being 31 years old – going on 32 in December – the only big fish left to fry is going for Michael Jordan's status. The Cleveland Cavaliers star said it himself over the summer.
He told Sports Illustrated,
My motivation is this ghost I'm chasing. The ghost played in Chicago.
Not so coincidentally, that "ghost" also happens to be the greatest athlete to ever play in Dwyane Wade's hometown, where – by the way – Wade now plays himself.
Wade did give James some credit, though. The Chicago Bulls guard told ESPN that LeBron is on the 15th hole of a golf course, while Michael Jordan is on the 18th.
Still, Wade says that the best James can do is become MJ's equal.
Wade said,
The only thing you can do is tie it. There's no 19th hole.
But after accomplishing the biggest comeback in NBA Finals history and winning his third ring, we're sure LeBron has other ideas in mind.
Citations: ESPN