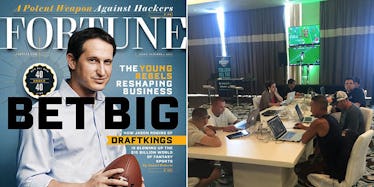 DraftKings and FanDuel Just Had Best Weeks Of 2015, Despite Lawsuits
Last week, fantasy sports sites DraftKings and FanDuel made headlines for all the wrong reasons following the news a DraftKings employee allegedly used "insider information" to win $350,000 in a FanDuel competition.
That news produced an investigation into the legality, morality and overall structure of such betting sites, as well as an in-depth look at some of the high-profile investors of DraftKings in particular.
Furthermore, two class-action lawsuits were filed against DraftKings and FanDuel based on the claims both sites allowed employees to compete in tournaments on each other's websites, and those employees had specific knowledge that could help them win cash.
Terrible news for these companies, right?
Think again.
According to reports, entries into both sites' guaranteed prize NFL competitions hit 2015 season highs this past Sunday.
Amidst scrutiny, FanDuel & DraftKings have biggest NFL week yet http://t.co/ALpEYJ9l6j — Darren Rovell (@darrenrovell) October 12, 2015
DraftKings saw its entries jump from 3.75 million to 4.14 million while FanDuel experienced a similar increase, seeing 3.18 million participants increase to 3.38 million.
DraftKings reportedly took in $25 million in entry fees, creating a profit of $2.6 million. FanDuel collected $20.6 million on Sunday, ending up with a profit of $3.5 million.
Apparently, for some NFL fans, playing against stacked decks only adds to the gambling excitement.
Citations: Daily fantasy sites take in highest number of entries this NFL season (ESPN)