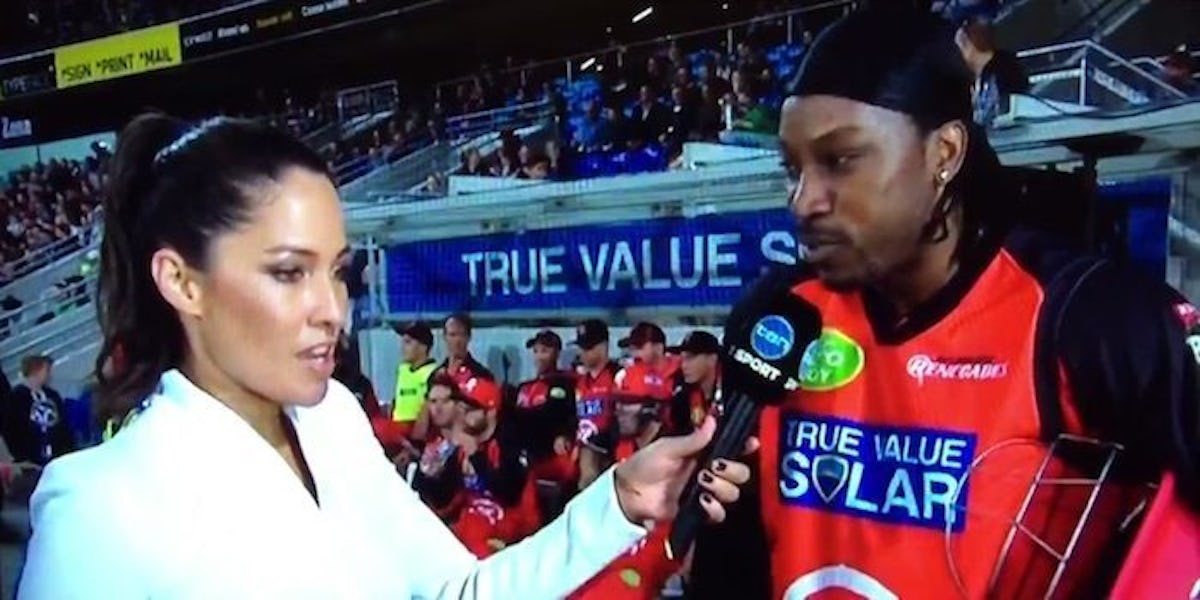 'Don't Blush, Baby': Cricket Player Hits On Reporter During Interview (Video)
A West Indian cricket star is in hot water following his attempt at picking up a news reporter during a live interview.
Chris Gayle probably didn't think his brief interview with Network Ten reporter Mel McLaughlin would go viral, but after he prompted her with a post-match drink, sh*t hit the fan.
The Gayle interview for those who missed it. Ugh. #BBL05 pic.twitter.com/HX9JgK5PwB — Steve Smith (@stevesmithffx) January 4, 2016
Gayle said,
I wanted to come have an interview with you... That's the reason why I'm here, just to see your eyes for the first time... Hopefully we win this game, and we can have a drink after. Don't blush, baby.
McLaughlin, to her credit, was quick to rebuff the 36-year-old's weak attempt at spitting game.
She responded,
I'm not blushing.
She then quickly attempted to get back to talking about the cricket match.
As a result of Gayle's comments, the Big Bash League, the Australian league Gayle plays in, made the following statement.
Statement re Chris Gayle on air comments tonight. pic.twitter.com/Zq6xn8fquW — Anthony Everard (@BigBashLeagueHQ) January 4, 2016
Journalist Neroli Meadows voiced her support for Mel McLaughlin.
Not clever. Not funny. Not original. How about just let a fine broadcaster do her job. — Neroli Meadows (@Neroli_M_FOX) January 4, 2016
Journalist Piers Morgan, however, was more sympathetic toward Gayle.
I'm absolutely outraged that everyone's so absolutely outraged by @henrygayle being a bit cheeky to a female TV reporter. #BBL05 — Piers Morgan (@piersmorgan) January 4, 2016
It's 2016, Mr. Gayle. Get with the times.
Citations: West Indies batsman Chris Gayle shocks with drink offer to journalist on live TV (Stuff.co.nz)