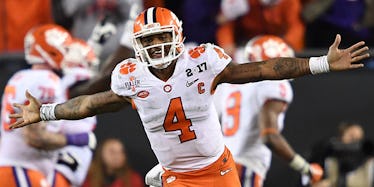 Viral Photo Shows Young Deshaun Watson Receiving A Home From An NFL Player
USA Today Sports
After a wild win on Monday night, he is now Deshaun Watson, national champion.
But a decade ago, the Clemson quarterback was just an 11-year-old kid whose family received some amazing help from an NFL star.
Now a viral photo shows proof of that experience.
After Clemson's thrilling win against Alabama in the college football national championship, SB Nation editorial director Spencer Hall shared the pic.
It shows former Atlanta Falcons running back Warrick Dunn presenting a home back in 2006 to Watson's family, and it became headline news on Tuesday morning for pretty obvious reasons.
One, Deshaun Watson led his team to their first national title in 35 years via a last-second touchdown throw. Oh, and the game was a rematch of last year's championship game, which means it'll probably be remembered as Watson's signature win.
Two, Warrick Dunn's work to help single-parent families get houses is one of more memorable charity endeavors from a former player.
The story of how Dunn created his Homes for the Holidays charity was detailed here, by Elite Daily writer Adam Silvers last year.
The short story? Dunn started the program in 1997 to provide "down-payment assistance, food, home furnishings and other necessities to combat poverty and hunger and to improve the quality of life for those in need," as stated on the charity's official website.
Twenty years later, he's helped provide over 150 homes, per USA Today's count.
On the specific occasion that Watson's family was helped, Dunn partnered with another charity to give a surprise. Habitat for Humanity had built the home. The family wasn't expecting to stay there the night they were presented with the house, according to ESPN's David Hale.
That's where Warrick Dunn stepped in. Dunn furnished the house and put food in the cabinets.
Remembering that day in 2006, Watson told the AP on Saturday,
I felt grown having my own room. Just having my own bed, not really being squished, not really worrying about someone sneaking up on me, it was a great moment, a special moment.
Perhaps just as special as winning Monday night's national championship.
Citations: Sports Illustrated