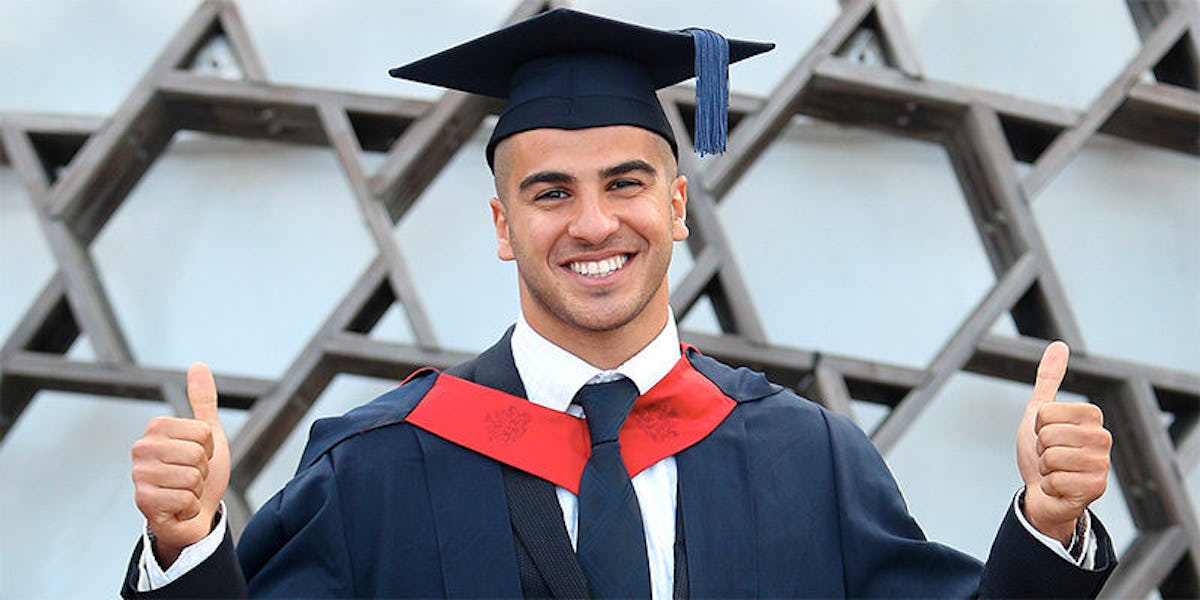 Why Patience And Persistence Are Key To A Successful Career In Sports
Getty Images
FrontOfficeSports.org is contributing a series of pieces to EliteDaily.com with the aim of advising young professionals on how to navigate their way to a successful career in sports.
This week's advice comes from Gerard Littlejohn, executive director for the Steve Smith Family Foundation. 
Front Office Sports is honored to have sat down with Gerard, who began as an intern for the Charlotte Bobcats, setting up statistical monitors, and is now leading the Steve Smith Family Foundation.
Gerard emphasized the importance of finding a balance between persistence and patience.
Continue reading to find out more about his journey and how he uses sports as a "catalyst for change" in the industry.
On the transition from an intern to a director's role:
While at Dick's Sporting Goods, I managed all the sponsorships and community relations for the Charlotte region. We had relationships with the Cam Newton Foundation and an organization called Procamps, which handles a lot of pro athlete summer camps. After two years, I was introduced to Steve Smith by a mutual friend. It's just one of those things that goes back to cultivating relationships. Something like Steve Smith's foundation, I realized, was something I had always wanted to do. I not only have a passion for sports but I think everyone has to have a purpose in this industry. You can't just say, 'I want to work in sports.' You have to bring some sort of value to an organization, team, college or whoever you work for. I've always had a passion for bridging sports and community together and being able to use sports as a catalyst for change and to help someone - to really be able to make an impact within the community we serve. That's always been something I've always wanted to do -- to bring those two worlds together. That's what I'm able to do with Steve Smith's foundation. He's a guy that means what he says and does what he says he's going to do. He has a heart for the community like nobody I've ever been around. He's even a better person when he steps off the football field. His foundation is based around domestic abuse and child health and wellness. We work to build programs around that support victims, shelters or other community organizations that help support our causes.
On the balance between being patient and being persistent:
I think there is a healthy balance between being patient and working hard while you wait. It's easy to get perturbed when you don't get the response you want. You also have to realize that there are a lot of executives you might be waiting on that have super busy schedules. This industry isn't the typical 9-to-5 where people come in the morning and leave in the evenings. The schedule works around games, events, and lots of other things. There's a lot of long nights, travel and other variables that might hamper a quick response. It's all about being patient, but having a game plan. It's knowing what your game plan is, sticking to it and being patient with your results. You also have to work for what you want whether it's doing research, going to different conferences, sending different follow-up emails, etc. There's a lot of different things you can do while you're being patient. You also don't want to be annoying. A lot of students I've talked to in the past have sent numerous emails a day. You don't want to be overbearing but at the same time, you do want to be persistent. You want to be at the top of that stack, top of the inbox and top of mind when it comes to the different executives and decision makers you're working with. There has to be a balance between being patient and being persistent. I think in the end, patience always wins.
On finding your passion within the industry:
Public relations, marketing and community relations are all intertwined. When I was with the Bobcats, I was often having to support guys when they were doing reading initiatives at an elementary school, hospital visits or serving in an underdeveloped neighborhood. I've always believed in serving others and putting others before myself. It's always been in the back of my mind, whether I've been in sponsorship or communications. The end goal has always been, 'How can this impact the community?' or 'How can this make a difference?' It's been something I knew I always wanted to do. It's definitely my passion. One thing students have to do is find their passion. A lot of people want to work in sports just because.  
On the importance of proving yourself beyond degrees:
I am still having to prove myself to people that are older than me. You always have to show your worth. Someone is always watching. It goes back to working hard, showing your value and making sure you have a mentor that can help you. It's very much a show-me industry. Even if you have a 4.0 GPA and have all the different degrees, this is a show-me industry when it comes to experience. You have to show your worth every single day, whether you're with a team, an athlete or a company. You have to show your worth every time you walk into a building, board meeting, or on a different project. Whether you're writing a release or selling the ticket, you constantly have to prove yourself to others and those above you. Just continue to work hard.
On how to keep getting better daily:
The learning never stops. I try to read publications whether it's the local newspaper, the Sports Business Journal or my Twitter feed, which is full of different sports business reporters and agents and athletes. I try to make myself a sponge within the industry and always learn something new. You'll never get to the point where you know everything.
On the feeling of working within sports while helping the community:
There's a circle around me where I know I can make an impact on the community and tell them different things I've done and my accomplishments. I know there is something bigger, where I can help inspire someone who was just like me. Not everyone comes from the greatest of neighborhoods, myself included, so I believe there's potential and value in everyone's life. I have a passion for going out in the community and talking to young kids and students. We all have a duty to give back. Someone helped me and I believe in paying it forward.
On what can help prepare you for every interview:
I'm really big on research. Before you go to an interview, take on a job or enter into something new. Before, I would hop on the computer and try to find out whatever I could. Now, you've got LinkedIn where you find a contact and try to find what similarities or contacts you have with that person. You can go online and look at a company's annual reports and figure out what their strengths and weaknesses are. Know what your value is and what you bring to the table.
Final words of advice:
It's all about building and maintaining relationships. You never know who the person you're going to meet knows and how they may help you or put you in front of another person that can help you. It's an investment, not just going to someone when you want something. It's always extending yourself and asking, "What can I do for you? How can I help?" It's not only making contacts but making sure they're mutually beneficial. Second, knowing the value of working hard and sacrificing. In this industry, you have to work hard and show your worth every single day. If you don't want to do something, like setting up stat monitors or handing out score updates, there's two hundred people around the corner that want to do it and take your place. It will always be about working hard and making sacrifices.
This interview was originally conducted by Katie Willis for FrontOfficeSports.org. You can follow the subject of the interview, Gerard Littlejohn here.