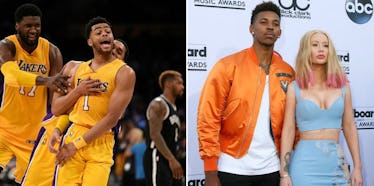 D'Angelo Russell Hilariously Mocks The Nick Young And Iggy Azaela Scandal
USA TODAY Sports/REUTERS
Earlier this year, Lakers guard Nick Young found himself in hot water after a video surfaced of him having a conversation with Laker teammate D'Angelo Russell.
The topic of that chat: Young's then-fiancée Iggy Azalea and sleeping with other women.
Apparently, that conversation, which Russell reportedly recorded without Young's knowledge, eventually led to the recent split between Iggy Azalea and Nick Young.
Azalea posted the following message to Instagram confirming the breakup.
Young, in slightly fewer words, appeared to say the same.
The couple reportedly tried to reconcile their differences after Russell's initial recording was leaked, seeing as how they were engaged to be married. Iggy even gave a seriously stern warning to Young should he try and step out of line again, but it just wasn't meant to be.
Now, the man who allegedly started this firestorm in the first place, D'Angelo Russell, is in the news again thanks to a recent Foot Locker ad.
As you can see in the video above, Russell appears to make fun of the Young-Azalea phone controversy by taking projected NBA rookie Ben Simmons' cell phone and throwing it into the ocean. This is in response to Simmons asking Russell for NBA advice.
Damn, D'Angelo, this is cold-blooded -- and kind of hilarious.
Update: It appears Nick Young has finally seen D'angelo Russell's Foot Locker commercial:
Citations: D'ANGELO RUSSELL MOCKS CELL PHONE SCANDAL ... In New Commercial (TMZ)