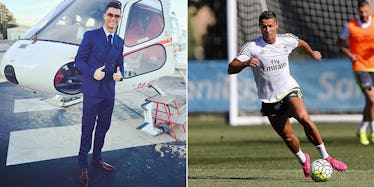 Cristiano Ronaldo Paid $43K So He Can Own A Lifelike Statue Of Himself
Facebook
Real Madrid superstar Cristiano Ronaldo may have recently lost out on the UEFA Best Player in Europe Award to Lionel Messi, but that doesn't mean he's moping around Madrid like a lost puppy.
Instead, the Portuguese international got over his defeat by commissioning a $43,000 wax sculpture of himself, modeled after the one currently on display at the Madrid Wax Museum.
Cristiano Ronaldo s'offre une statue… de lui-même http://t.co/kYb3RQEYGj pic.twitter.com/iigZH6WXZU — Le Scan Sport (@Le_Scan_Sport) August 31, 2015
The new Ronaldo figure was made in England by Michael Wade, who crafted the design based on CR's specific instructions.
Ronaldo, being the God he is, even had his personal hairdresser style the wax figure's locks.
AS: The Wax museum in Madrid is busy making a third waxwork figure of Cristiano Ronaldo. pic.twitter.com/2zttwnwDPf — M.A.J (@UltraSuristic) July 28, 2015
Now, he won't have to wait in those long museum lines to see himself; he can just walk into his living room.
It looks like Cristiano Ronaldo's eye for art is just as sharp as his eye for a goal.
Citations: Cristiano Ronaldo got a $43,000 statue made of himself and it was perfect (News.com.au)