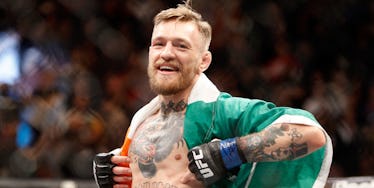 Conor McGregor's New Favorite Diet Encourages Dark Chocolate And Red Wine
Getty Images
It's an interesting time for mixed martial arts superstar Conor McGregor.
No one knows for sure which weight class McGregor will choose to compete in for a title -- it could be 145 lbs, 155 lbs or 170 lbs.
This makes his diet an interesting topic. After all, he has to consciously lose, gain or maintain significant amounts of weight depending on which of the three classes he chooses.
This past January, his coach John Kavanagh did indeed hint at a dietary change.
Kavanagh told the 42,
You've seen Conor on salads... now watch what he's like on steak.
And reports mention Conor has stuck to that plan. But in the lead-up to his next fight, at UFC 197 on March 5, McGregor publicly endorsed a different diet.
What exactly is the Sirtfood Diet?
It's the food plan that swears by its ability to help you lose seven pounds in seven days while encouraging an increased intake of sirtuin activators.
According to the National Center for Biotechnology Information,
Sirtuins activity is linked to gene repression, metabolic control, apoptosis and cell survival, DNA repair, development, inflammation, neuroprotection and healthy aging.
For the layman's definition, dietician Emer Delaney offered a simpler explanation for BBC's Good Food,
Sirtuins are believed to protect cells in the body from dying when they are under stress and are thought to regulate inflammation, metabolism and the aging process. Researchers also believe sirtuins influence the body's ability to burn fat and boost metabolism, resulting in a seven pound weight loss a week while maintaining muscle.
Since sirtuins are proteins that are already in our body, the Sirtfood Diet seeks to encourage eating foods that trigger them into action.
So what can you eat?
Some of the most common Sirtfoods cited are:
Green tea
Coffee
Prawns
Salmon
Apples
Olive oil
Salmon
Blueberries
Parsley
Dark chocolate and red wine, surprisingly, are also under the Sirtfood Diet.
The plan works in two phases.
Phase one:
The first phase lasts one week and consists of two parts.
The rules for the first three days are:
1,000 calories per day
Three Sirtfood juices per day
One Sirtfood-rich meal per day
The rules for the last four days are:
1,500 calories per day
Two Sirtfood juices per day
Two Sirtfood-rich meals per day
Phase two:
The second phase essentially calls for a balanced diet of Sirtfood-rich meals over a 14-day period.
During this phase, the nutritionists who wrote the book on the diet advise eating three meals per day along with one juice.
It's important to note, though, some experts are not convinced. Delaney said,
At first glance, this is not a diet I would advise for my clients... In terms of weight loss and boosting metabolism, people may have experienced a seven pound weight loss on the scales, but in my experience this will be fluid.  Burning and losing fat takes time so it is extremely unlikely this weight loss is a loss of fat.
Still, with the quick-fix solution the plan promises, there are sure to be those who won't mind experimenting with the Sirtfood Diet.