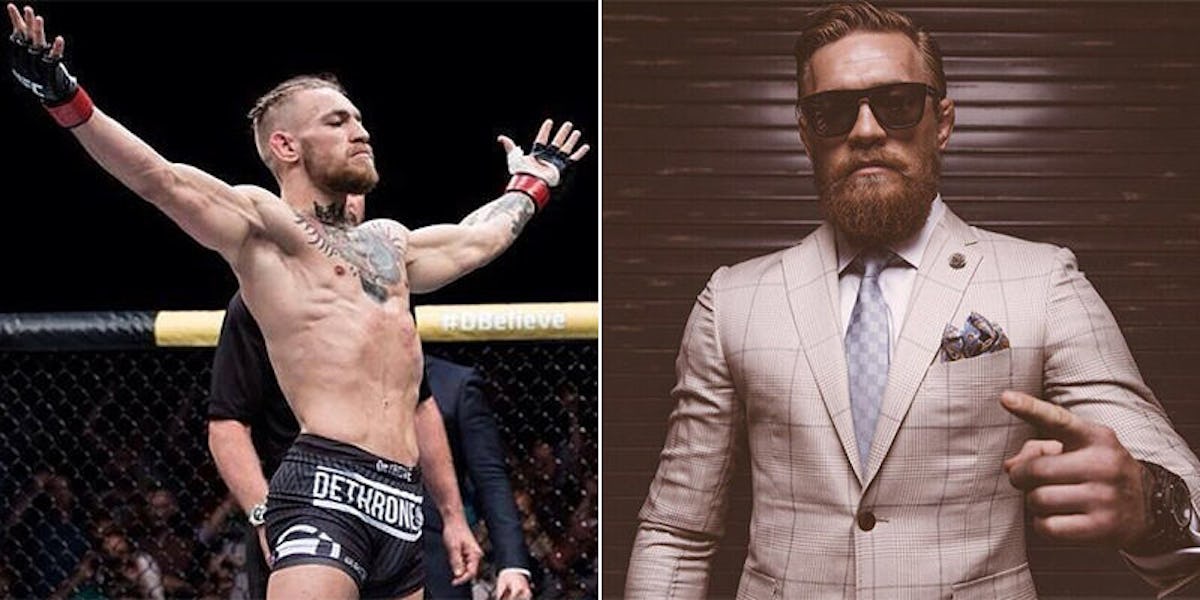 How Conor McGregor Went From Plumber To The Most Exciting UFC Fighter
Instagram
Once a generation, there's a fighter who transcends the sport and leaves an indelible impact on the world. That is, if fans are lucky.
In the past, that sport has been boxing, with legends like Ali and Tyson combining in-ring greatness with larger-than-life personalities, but in 2015, the landscape is looking completely different.
With the rise of mixed martial arts and the UFC's dominance as the superior product, CEO Dana White has been looking for that marquee attraction to bring the company (and his pockets) to the next level.
It goes without question Conor McGregor is that dude.
The 26-year-old Irishman is creating a hype we haven't seen before in the sport. He's young, he's competitive and he has plans on being the richest athlete on the planet. He can do it, too.
At UFC 189, he backed up his talk by taking down Chad Mendes via knockout in the second round (the outcome he predicted) to win the interim UFC Featherweight Championship.
So, what separates Conor McGregor from any other fighter in the UFC?
For one, his fighting style is straight out of a spy movie. But he's a cocky son of a bitch, and as much as people want to see him fight, they want to see him lose. That's especially the case with his colleagues.
Love him or hate him, Conor McGregor is headed straight to the top.
He's a man who knows what he wants and will not let anything get in the way of his goals. He epitomizes Generation-Y and proves how much you can accomplish despite your age. This is his story.
There has never been a star like Conor McGregor in the 22-year history of the UFC.
In just two years, he went from being unknown to on the verge of being the biggest name in the history of the sport.
His talent speaks for itself, but it's his incredible self-belief and confidence that makes him the force he is.
He's the pride of Ireland and is creating a buzz the UFC needs more than anything.
He is also branding himself to cash out and become one of the wealthiest athletes in the world.
Conor McGregor was born on July 14, 1988 in Dublin, where he says you either need to know how to play soccer or fight.
Growing up in Ireland, Conor learned to fight on the streets and lost his first scrap over a girl.
In the same interview, he even admitted he fought his father regularly, but won the last (and hopefully final) one.
When he turned 16, he found out about mixed martial arts and began training religiously.
Despite working as a plumber, he went against his father's wishes and left in 2008 to pursue his dream of fighting in the UFC.
For years, he was broke and training with John Kavanagh under SBG Ireland, where he learned the art of MMA.
It wasn't until UFC 93 in Ireland that he realized accomplishing his dream could be a reality.
Before 2013, Conor fought in smaller promotions, earning a 12-2 record with 11 knockouts. One of them came in just four seconds.
That gained attention from people in the UFC, including commentator Joe Rogan.
Reply to @joerogan Thank you very much Joe, that means alot, you are a fucking legend my friend!! — Conor McGregor (@TheNotoriousMMA) January 2, 2013
In 2013, Conor McGregor signed a multi-fight deal with the UFC and is currently 6-0 with the promotion.
With his rapid success, Conor indulged by buying new cars...
And more of his signature tailored suits.
Dana White loves him and realizes how valuable he is for the company, which is why they're always together discussing business.
By no means is he your average fighter on the UFC roster.
That's not just because he can dominate virtually any fighter inside of the octagon.
It's the way he carries himself outside of it...
Who he surrounds himself with...
Me and Mike think it's best to leave your Ma at home for the Vegas trip, but it's your call champ? @mcglone_brendan pic.twitter.com/Uuh6Mim9y0 — Conor McGregor (@TheNotoriousMMA) June 9, 2015
How he interacts with other fighters in the locker room...
At the weigh-ins...
And before the bell even rings.
Conor McGregor is the definition of a rockstar in sports.
This is what his last knockout victory looked like, on Saturday to win the UFC Featherweight Championship.
And this is what he looked like afterward.
On top. pic.twitter.com/5lzaRwttsO — Conor McGregor (@TheNotoriousMMA) July 13, 2015
Make no mistake about it, Conor McGregor is one of the hardest workers in all of UFC.
He just makes it look better when he does it.