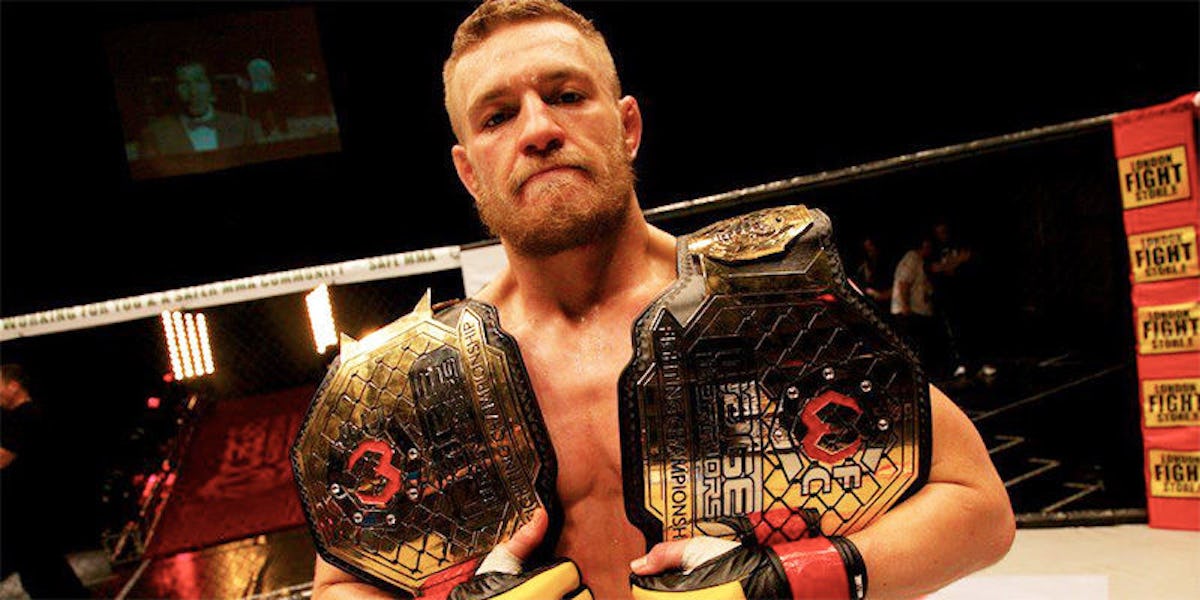 Conor McGregor Became A Champion Because He Lost The Fight Of His Life
Facebook/Conor McGregor
Conor McGregor did not hesitate to reveal how dreadful his former profession was.
He told Dan Le Betard last week,
It was just a rough time for me, and I knew that I did not want to pursue this life.
Before McGregor was winning gold in the octagon of UFC, his life revolved around his apprenticeship as a plumber, a gig his mother got him after he graduated from high school back in his native Ireland.
McGregor's family saw it as a safety net of an occupation, but one that involved two-and-a-half-hour commutes, 12-hour work shifts and the responsibility, as a rookie, of doing whatever and going wherever anyone asked him to do.
It was ugly, and it wasn't long before the 26-year-old Dublin native decided to do what most people might have been afraid to: He made a drastic change.
On his thoughts at the time, he told Le Betard:
Why do this? Why work to the grave? This is not what life is meant to be.
There were no "right" answers to his questions so he left, much to the chagrin of his parents back home.
And though it was his mother who secured the job for him, it was McGregor's father who seemingly took most offense to the featherweight fighter dropping his responsibilities as a plumber.
So incensed was the senior McGregor, that father and son began to physically, no joke, fight over his son's decision to quit.
At that point, you might say it was the fight of McGregor's life.
Sure, the Irishman has since had high-profile bouts that drew way more attention, but this domestic battle was for the right to have a career worth paying attention to in the first place.
So, yes, the fight and the series of scraps that followed, were monumental.
Unlike the McGregor we know today, however, the younger Conor regularly came up on the losing end, but he had the most unique of defeats.
I lost, but I won, if that makes sense. He might've whooped my ass, but I still didn't go back to that building.
You might understand the senior McGregor's reaction and skepticism, too. At the time, there were no Irishmen who'd fought with UFC.
His parents had no idea what he was doing and, by his own admission, it looked like there was "no future" in fighting.
It was a truly remarkable starting point to come from, which makes what McGregor did on Saturday night all the more remarkable.
With the interim featherweight title on the line, McGregor rebounded from the first round, during which he was dominated by Chad Mendes and proceeded to land a knockout victory in the second to capture the gold.
Today, McGregor begins his week in triumph as the man with the belt and, perhaps more importantly, as the fighter who serves as the face of a promotion just as it enters what Dana White deems to be a new era.
McGregor is now the most recognizable winner for that promotion and, ironically, it might not have ever happened if he wasn't a loser so many times during those fights with his dad.
He told ESPN:
Defeat, at the end of the day, is the secret ingredient to success. You must feel defeat someway. You must have that feeling to spur you on to reach that high, high pinnacle.
It's a good thing McGregor felt that feeling.