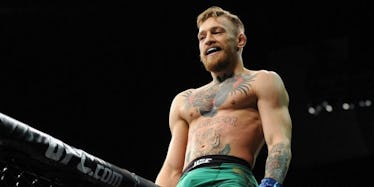 Conor McGregor Posed Butt-Naked In ESPN's Body Issue And The Photo Is Intense
USA TODAY Sports
Since he lost to Nate Diaz at UFC 196 back in March, we haven't heard all that much from Irishman Conor McGregor.
Sure, there was some back and forth in May about a super fight between McGregor and boxer Floyd Mayweather, but I don't think anyone thought that battle would actually come to fruition.
Even after Conor McGregor posted a picture on Instagram, appearing to tease a fight between himself and Mayweather, it still didn't feel legitimate.
Well, McGregor is now back in the headlines, and it has virtually nothing to do with Floyd Mayweather or any other proposed fight. McGregor is currently making the rounds thanks to this nude photo he posed for that will run in ESPN's 2016 Body Issue.
As you can see in the image above, it looks like McGregor has definitely been staying in shape while he's been staying out of the headlines. A quote from McGregor accompanying the nude photo reads,
If I only had to focus on boxing, hell, I'd be neck and neck with Floyd right now.
It looks like the 27-year-old just can't let that matchup with Mayweather go.
Citations: ESPN (Instagram)