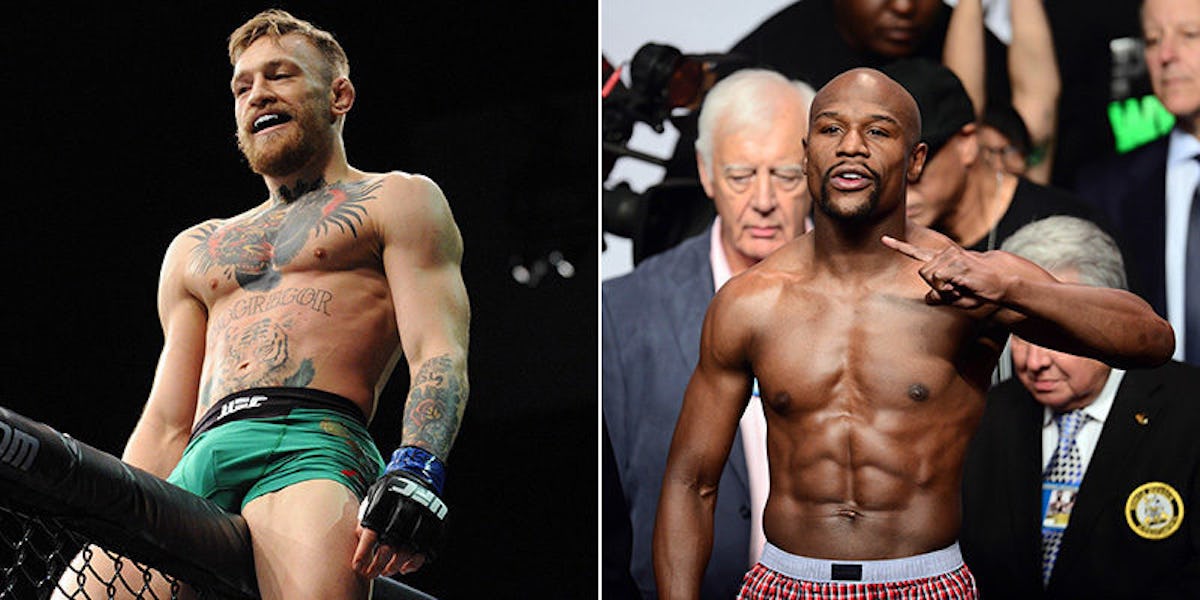 Conor McGregor Just Teased A Fight Against Floyd Mayweather With This Photo
REUTERS
Last week, a potential deal to make a fight between Floyd Mayweather and Conor McGregor was rumored to be in the works.
The news started doing the rounds after a report from The Sun claimed the two fighters were set to go head to head in Las Vegas, Nevada this summer.
A source reportedly told The Sun,
Floyd went mad after Conor said he would crush him and knock him out in 30 seconds, he's obsessed with making Conor eat his words. Floyd is calling the shots. It's strictly boxing and Conor will have to lose roughly 25lbs. It was agreed in principle on May 2, but Floyd wouldn't reveal the identity of his opponent until last night when he told friends he'll be fighting Conor.
But within hours, UFC President Dana White knocked down the idea of a McGregor-Mayweather fight.
White told Yahoo! Sports,
It's not true; it's just a tabloid story. And as far as I knew, Floyd is retired and he's been on a world-wide vacation and hasn't even been thinking of fighting.
That being said, sports fans have every reason to believe this fight is a highly improbable prospect. And yet, here Conor McGregor is, posting an Instagram photo that teased the fight.
No one could possibly know what the post means or what it's hinting at, if anything. But, McGregor is clearly playing with all our emotions, because this fight could never possibly happen, right?
Citations: Floyd Mayweather, Conor McGregor Reportedly Close to Vegas Boxing Fight Deal (Bleacher Report), Floyd Mayweather and Conor McGregor on the verge of agreeing billion dollar mega-fight (The Sun), Floyd Mayweather returning to box Conor McGregor? Dana White says no (Yahoo! Sports)