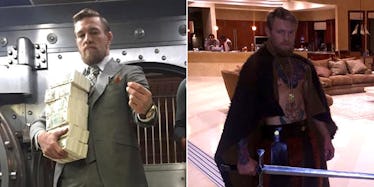 Conor McGregor Lives Like A King When He's Not Punching People's Faces In
Facebook
Just 10 years ago, Conor McGregor was a plumber. Seriously.
Today, he's the undisputed UFC featherweight champion and well on his way to being the best pound-for-pound fighter in the world.
Being the most feared fighter on the planet isn't his only motivation, however; he also wants to be the richest. McGregor is legitimately aiming to be the first MMA fighter to make nine figures.
UFC CEO Lorenzo Fertitta even agrees Conor could be the first to earn $100 million by the end of his career.
No one is cashing out like Conor McGregor in the UFC. The combination of his brash personality and barbaric fighting style is smashing records and drawing interest from people who would've never watched MMA in the first place.
McGregor has branded himself better than anyone before him, and if three-piece suits and Versace shirts at the fight conferences don't tell you enough about the caliber of athlete he is, then his awesome lifestyle will.
Conor McGregor is reportedly worth $10 million, but realistically, it may be even more.
On paper, he's earned an estimated 2.1 million for his seven fights in the UFC so far.
That includes $500,000 bonus for this brutal knockout of Chad Mendes at UFC 189.
Add another $500,000 for the 13-second knockout of Jose Aldo at UFC 194.
However, McGregor also cut a deal with the UFC to earn a cut of the PPV sales. It was estimated he made $5 million from those two cards alone.
Plus, he's making most of his money from endorsement deals that include Reebok, Budlight, Monster Energy and Volvo to name a few.
With all this positive cash flow, you can believe the Notorious Conor McGregor is spending his ass off.
When it comes to cars, he's got plenty.
Today is a day for the Drophead Rolls!#MorningChoicesAtTheBeachHouse @rollsroycecarsna pic.twitter.com/aC5YgSeXBn — Conor McGregor (@TheNotoriousMMA) February 28, 2016
"Aventador to the corner store."
Aventador to the corner store. pic.twitter.com/VAqasnj69t — Conor McGregor (@TheNotoriousMMA) February 26, 2016
How much is enough?
Another day, another addition. #Fleet https://t.co/9n5RnY7mch pic.twitter.com/uK1kpIbJ4L — Conor McGregor (@TheNotoriousMMA) October 12, 2015
At this point, he just started giving them government names.
My new addition to the fleet. The Franklin. https://t.co/21WXb3ZrIt pic.twitter.com/lTpGjAJDpW — Conor McGregor (@TheNotoriousMMA) November 9, 2015
When you're riding around this clean, you have to be iced out.
And when he travels, of course, it's always private.
But everywhere he goes, Conor makes sure to bring his baby with him.
To be this fly, you need to go shopping pretty excessively.
Of course, Conor brings his woman when he decides to ball out.
Luckily for her, that's pretty much every damn day.
Who else do you know that shows up to the press conference in Versace?
When it comes to cribs, Conor has that too.
Every king has a luxury pool to swim in.
Just don't try to enter his property and start any trouble.
This dude will literally end you.
During his free time, Conor likes to buy designer shoes.
And more designer shoes.
But let's not even get to the suits.
There's nothing scarier than a gentleman who can whoop your ass.
Especially one who's as awesome as this.
As for reaching those nine figures, Conor McGregor's logic is simple. He told Realty Today,
I'm waiting on my next multi, nine-figure contract, which is en route, I just let everyone up there know, I let the bosses know and everybody there know what I bring and my worth. I'm still here the highest-paid. Let's compare contracts. Because the contract that I'm talking now is nine figures, nine figures I'm talking. Nobody in the game has talked nine figures. That's $100 million plus. That's my contract, so, that's where I'm at and I've done it the way I've done it. Either learn from it or don't.