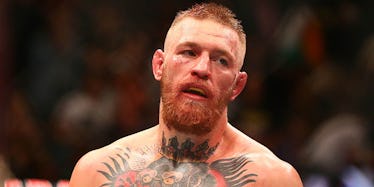 Conor McGregor Finally Explained Why He Sent Out A Retirement Tweet
Mark J. Rebilas-USA TODAY Sports
Two days after declaring on Twitter he decided to "retire young" -- before getting subsequently dropped from his scheduled fight at UFC 200 -- Conor McGregor has broken his silence to explain his position.
In a lengthy Facebook post, the Irish star reassured fans he is not retired but indicated he has always been at odds with UFC.
He wrote,
I will always play the game and play it better than anybody, but just for this one, where I am coming off a loss, I asked for some leeway where I can just train and focus. I did not shut down all media requests. I simply wanted a slight adjustment. But it was denied. There had been 10 million dollars allocated for the promotion of this event is what they told me. So as a gesture of good will, I went and not only saved that 10 million dollars in promotion money, I then went and tripled it for them. And all with one tweet. Keep that 10 mill to promote the other bums that need it. My shows are good. I must isolate myself now.
By the end of his post, McGregor confirmed three things: He is not retired, he wanted -- and still wants -- to train in isolation, away from media commitments, and finally, his desire to stay away from promotion is a particular point of contention between himself and UFC.
He said,
I am facing a taller, longer and heavier man. I need to prepare correctly this time. I can not dance for you this time. It is time for the other monkeys to dance. I've danced us all the way here.
You can read McGregor's full post here.