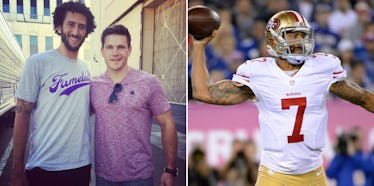 Colin Kaepernick Is Really Skinny Now, And We're Not Sure What To Make Of It
Despite all the rumors of a trade to the Denver Broncos, quarterback Colin Kaepernick remains with the San Francisco 49ers... for now.
But, this constant back-and-forth talk might just be weighing on Kaep's mind and, it appears, his body. Recently, Kaepernick took a picture with Cole DeBoer on the set of "Teen Mom 2," and the former NFC champion is looking skinny AF.
Personally, I think the slim look works on Kaep, but there's no way an active NFL quarterback should have skinnier arms than the dude he's taking a picture with.
I mean, just look at Colin Kaepernick putting in work about a year ago.
This dude was jacked no matter what sport he was participating in.
Kaepernick used the legs of a gazelle and the upper body of a warrior to outrun NFL defenses just a little while ago.
Now, it looks like he's not strong enough to throw a ball 15 yards.
What's going on, Kaep?
Citations: Colin Kaepernick Has Lost Some Weight This Offseason (Photos) (Black Sports Online)