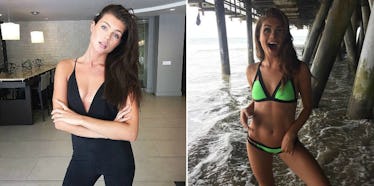 Cleveland Browns QB Cody Kessler Has The Hottest Girlfriend In Football
Instagram
I really can't believe it, but this coming Sunday, the Cleveland Browns will reportedly start their fifth quarterback in five games dating back to last season.
This misfortune has only befallen one other team in the last 50 years.
While you're struggling to wrap your head around this phenomenon, let's take a closer look at the dude who will be under center for the 0-2 Browns, Cody Kessler.
Kessler is a 23-year-old rookie who was drafted by the Browns with the 93rd overall pick in the 2016 NFL draft. Before he made his way to Cleveland, Cody Kessler was slinging passes in Southern California for the USC Trojans.
If you're unfamiliar with college football, being the quarterback of USC is pretty much akin to being a god. To say Cody Kessler was the big man on campus probably wouldn't even do his influence justice.
I say this in an attempt to explain how someone like Kessler could end up with a girlfriend like Ukrainian model Valeriya Kuklishyna.
Yeah, Cody Kessler is definitely blessed.
I could ramble on here about how jocks at big football programs always end up with incredibly beautiful women, or we can just take a closer look at Valeriya Kuklishyna, the hottest WAG in all of football.
Sunday, the Cleveland Browns will start their fifth quarterback in five games, rookie Cody Kessler.
The beautiful young woman pictured with Kessler is his girlfriend, Valeriya Kuklishyna.
Kuklishyna is a Ukrainian model, and as you can see, she's absolutely gorgeous.
In fact, I think it might be fair to go as far as to say she's the hottest WAG in all of football.
Valeriya Kuklishyna and Cody Kessler presumably met in Southern California, where Kessler was quarterback for the USC Trojans.
The quarterback position for a college team like USC's is equivalent to football royalty...
...and I think it's safe to say this king has definitely found his queen.
Cody Kessler probably didn't expect to get thrown into the fire so soon in his NFL tenure, but injuries will jumpstart a career real quick.
Luckily for Kessler, he'll presumably have the incredibly sexy Valeriya Kuklishyna rooting for him in the stands in Miami this Sunday.
I mean, even if Kessler throws four interceptions, and the Browns get their ass kicked by the Dolphins, Kessler still gets to go home with Kuklishyna.
It's like, does this dude ever have a bad day? How can he, really?
As shitty as things might seem, you have to remember you're an NFL quarterback...with an insanely hot girlfriend.
So, when things go south for the Browns and Kessler on Sunday, don't feel bad for him -- just remember his smokeshow girlfriend, Valeriya Kuklishyna.