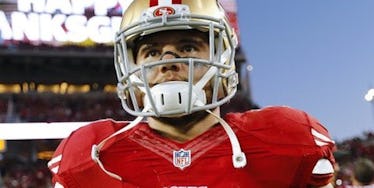 A 24-Year-Old Rookie Just Retired From The NFL Because He Doesn't Feel Safe
Last year, linebacker Chris Borland had an excellent rookie season with the San Francisco 49ers.
Now, he's calling it quits on his NFL career.
Borland, 24, caught the attention of the league, media and his fellow players by becoming the latest player to join a recent slew of NFL retirements.
But, Borland's decision is that much more shocking because of his skill, young age and the fact he's yet to suffer a major injury.
Amid concerns of head injuries and other long-term effects of playing football, Borland is simply walking away before he's faced with that situation.
While speaking to "Outside the Lines," Borland said,
I just honestly want to do what's best for my health. From what I've researched and what I've experienced, I don't think it's worth the risk.
The 49ers, while shocked to learn of his decision, said they respect his choice.
The #49ers' statement on Chris Borland's retirement: pic.twitter.com/wMIFEFaHdV — Dieter Kurtenbach (@dkurtenbach) March 17, 2015
Borland is leaving over $500,000 on the table this coming season.
Chris Borland was scheduled to make $530K this year, plus $10K workout bonus. Not many jobs pay 24-year-olds $540K for 6 months of work. — Adam Schefter (@AdamSchefter) March 17, 2015
There are certainly those who see his decision as a rational -- and perhaps increasingly popular -- one.
It's unnerving to go through a season & witness multiple players knocked unconscious. The body is not meant to sustain that type of trauma. — Donté Stallworth (@DonteStallworth) March 17, 2015
WOW. I loved Chris Borland's game but I can't fault him for calling it quits. His concerns are real. Still it takes a man to do the logical. — Chris Long (@JOEL9ONE) March 17, 2015
So P. Willis and Chris Borland? They know something that we don't? — Brandon Marshall (@BMarshh54) March 17, 2015
Chris Borland retiring, at age 24 and relatively healthy in a football sense, is a very big deal. — Greg A. Bedard (@GregABedard) March 17, 2015
Got to respect Borland for clearly putting thought into his decision. If you're not 100% committed to this game, better to walk away. — Geoff Schwartz (@geoffschwartz) March 17, 2015
It's extremely difficult when you're living your dream of playing in the NFL as a 20-something to contemplate what life could be like at 50. — Donté Stallworth (@DonteStallworth) March 17, 2015