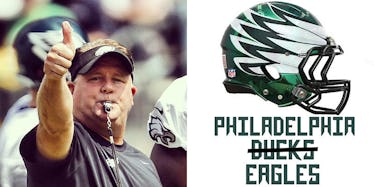 Chip Kelly Is Putting His Oregon Duck Print On The Philadelphia Eagles
Twitter
The honeymoon phase of the Chip Kelly era as Eagles head coach ended at 6:39 EST on March 3, 2015.
That was when my phone buzzed with a news update. Reports coming from South Philly noted the Eagles were trading LeSean McCoy, 26, the team's all-time leading rusher, to Buffalo for Kiko Alonso.
The reaction was sudden, and everyone from every corner of Eagles nation had an opinion. Most fans do not like the move, which will not become official until the 2015 NFL business year starts on Monday afternoon.
McCoy has two productive seasons under the leadership of Chip Kelly; although, last year saw a slower start with diminished rushing yards and touchdowns.
Alonso is coming off a torn ACL, and while he does address a need at inside linebacker, trading an elite running back for him left many fans scratching their heads.
Along with releasing other veterans earlier this week, the move signals a new day for the Eagles, where Kelly, now coach/GM, will put his stamp on the team with his own players to more so resemble his collegiate juggernaut at Oregon.
However, he will have to do so with an owner who is not only loyal to the former GM who now controls the contracts, but also doesn't subscribe to the "win at all costs" mantra other NFL owners possess.
Getting the band back together
With the addition of Kiko Alonso, Chip Kelly now has nine former Oregon Ducks on his pro team — a mark that matches former USC coach John McKay's number of USC Trojans on the '78 Buccaneers team, which went 5-11 with rookie QB Doug Williams.
The Eagles seem to be angling for Kelly's former college signal-caller, Marcus Mariota. McCoy was considered a key piece of collateral if the Eagles wanted to trade up from #20 to get the Heisman winner.
Since no picks appear to be coming Philly's way in this deal, the position is weaker. Kelly kept a more familiar face in Nick Foles, the Arizona product he faced in college, but would certainly love the guy he recruited to play for him at Oregon.
Another element harkens back to the questionable release of elite receiver DeSean Jackson last year. Chip Kelly had a long career in college roles and has shown little tolerance for dissidents.
Cary Williams complained about practices when the Eagles were 3-0; he was cut yesterday. McCoy brought similar concerns that he claimed sapped his game day strength. Well, now, the 2013 rushing champ and his $11 million-plus cap hit are shuffling off to Buffalo.
Chip didn't take any lip at Eugene, suspending star tailback LeGarrette Blount for the better part of the 2009 season following a punch he threw at a Boise State player during the post-game handshakes.
He comes off as eccentric and fans love his sharp comebacks to the media, yet he is used to absolute power from his years of college coaching, and he's not afraid to wield it.
While he attempts to revolutionize the game, he has no room for doubters and heretics in his locker room -- only the converts and zealots who follow his style.
Rebuilding after two years
Using the term "rebuilding" around a team that won 20 regular season games in the coach's first two years, along with a division title, seems bizarre.
Chip Kelly has acclimated as well to the NFL as any college coach, who neither played nor assisted in the pros, could. On the field, the team looks good and fans forgot the 4-12 disaster in 2012 that ended the long-standing Andy Reid tenure.
The Linc returned to capacity crowds and the Phaithful returned to starting fights in the stands.
However, all is not well down on Pattison Avenue in South Philly. Of those 20 wins, only three have come against teams who would make the playoffs. Kelly is 3-7 in games against playoff teams, losing all four at Lincoln Financial Field.
Games against top teams, like Denver last year and Green Bay this year, were painful routs to watch.
There's a need to restructure this team, especially on the defensive end, which made easy wins look too close, and failed to lock down late against Arizona and Washington, and ultimately, became losses.
Mariota is very talented and has long-term potential in this league, but his pro-style elements need work.
Selecting him is asking the fans and team to undergo a full metamorphosis into a pro-version of his Oregon team, which looked unstoppable at times, but never won the national title, falling short in the 2010 BCS title game to Cam Newtown and Auburn.
Can he get what he wants?
Chip Kelly faced some significant transitions when he switched coasts in early 2013. He managed to overcome one around this new year, when he assumed the title of Director of Football Operations from incumbent GM Howie Roseman.
Chip had free reign at Oregon to sign as many blue chip recruits as possible, utilizing a massive budget at a major university, funded by bowl earnings, gracious donors, corporate partnerships and even television revenue from carriage deals and the conference's own network.
Kelly was used to working with a well-funded enterprise and integrated Oregon's relationship with Nike founder Phil Knight well enough to recruit. Oregon became known for its sweet uniforms and high-flying game, which was a great way to bring in elite talent from across the nation to play in the Pac-12.
Kelly also succeeded against established powerhouses, like USC, UCLA and the resurgence of Stanford.
Here's where things changed since Kelly changed visors and switched out the rustic setting of Oregon for the metropolis on the Delaware: Much of the talent gap he exploited in college, both for recruiting and game plans, has vanished.
That's a very difficult transition to face and is probably the biggest challenge to installing his paradigm. If he wants to build his team in his own image, he needs to make certain concessions to the NFL style of play and the schedule.
Instead of 12 games in 14 weeks before a conference championship and almost a month off before the bowls, he has to play 16 of 17 weeks before a four-round, single elimination tournament. The Eagles entered December 9-3, with control of their own destiny.
They lost three games in a row and the dream season shattered when Dallas rolled over them at home in week 15.
While Kelly has become the overseer of football operations, he doesn't have unlimited authority. Former GM Howie Roseman now focuses on the business side of football ops, including the signing and terms of player contracts.
The man who hired him, owner Jeffrey Lurie, retains the confidence that Roseman will act with discretion and do "what's best for business." Lurie's stewardship has seen the team become a consistent contender, but never win a title.
He likes to leave some cushion for free agency, like last year's $16.8 million left in the bank when the season started. Unspent money from the previous season rolls over into the following year, giving the Eagles about $44 million on free agents.
However, how much of that can Kelly use to sign more talented players and upgrade in certain areas? Can he use all that cap space or is he on a shorter leash than we assume?
This showdown between Kelly's gung-ho attitude and Lurie's desire to play it safe will affect how thoroughly the new coach puts his stamp on the franchise. Andy Reid made the Eagles great again with finding undervalued talent and implementing them into his system.
However, for every FCS product, like all-purpose yardage maven Brian Westbrook, there was a miss, like Colorado punt returner/Olympic skier Jeremy Bloom, who didn't quite pan out. Kelly brings a different mindset to the table.
He is used to getting the best and that's what he'll want in the NFL. If Lurie is using the cap savings to line his own pockets, Howie Roseman's door might come off the hinges from all the times Kelly slams it in disgust.
World champion coach Bill Parcells set the modern paradigm when he noted, if someone wants to cook you dinner, you should be allowed to shop for groceries.
Chip Kelly is currently shopping for groceries, looking to put together many courses of fine duck. Fans are hoping he can pay at the register and not be told he has to put some things back on the shelves.