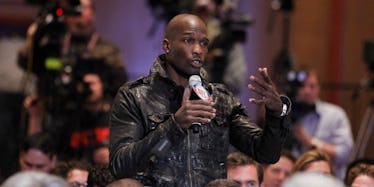 Chad Ochocinco Is Being Confused For A 'Bachelorette' Contestant On Twitter
REUTERS
If you've been watching this season of "The Bachelorette," then you're more than familiar with the infamous Chad Johnson, a 28-year-old former marine who has disrespected JoJo Fletcher and virtually every other contest on the show.
Tuesday night, Chad Johnson, "The Bachelorette" contestant, was sent home after not receiving a rose from JoJo, but Chad Johnson, the former NFL wide receiver, was the one who started getting all kinds of hate on Twitter.
Twitter user @gerigemos clearly didn't realize her mistake because she just kept going at Chad "Ochocinco" Johnson.
Eventually, it appears Geri got the message, and it looks like she was really appreciative of how understanding Ochocinco was.
The 38-year-old Chad Johnson changed his name to Ochocinco in 2008, in order to reflect his NFL jersey number, but he changed his name back to Chad Johnson in 2012.
I'd say he should've left it as Ochocinco to avoid getting Twitter hate, but the former NFL wideout's Twitter handle is still @ochocinco!
So, this is firmly on the shoulders of Geri Gemos and whoever else tweeted at Chad Johnson. Although, after watching a few episodes of this season of "The Bachelorette," I can understand how Chad's antics would cause someone to tweet without thinking.
Any questions?
Citations: Former NFL Star Chad 'Ochocinco' Johnson Is Hilariously Confused for 'Bachelorette' Villain Chad Johnson on Social Media (US Magazine)