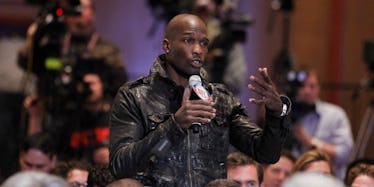 Chad Ochocinco Gets Real About His Small Penis In This Shirtless Video
REUTERS
During his NFL playing days, Chad Johnson, now known as Chad Ochocinco, was one of the biggest and loudest wide receivers in the game.
Now, though, it seems Ochocinco doesn't quite have the same brash and bravado he displayed back in the day. We know this, thanks, in large part, to a recent video Chad Ochocinco posted on Instagram.
In this video, the 38-year-old Ochocinco boasts about having an eight-pack, despite eating McDonald's. That part sounds like the Ochocinco we know and love.
However, as you can hear in the video below, he continues on to say the only thing wrong with him is "downstairs." According to Ochocinco, he only has a 3-inch penis.
However, as you can hear in the video, that small size of Chad's johnson doesn't really matter because he has the personality to make up for it.
It's all well and good Chad Ochocinco is clearly comfortable enough with himself to be honest about his 3-inch penis, but why put yourself on blast on social media?
It's not like he got caught with his pants down -- pun intended -- and had to be honest about the question.
So, ladies, are you more interested in a dude's personality or what he's packing in his pants?
Citations: WATCH: Chad Ochocinco says his penis 'ain't nothing but three inches' in wild video — WARNING: GRAPHIC LANGUAGE (New York Daily News)