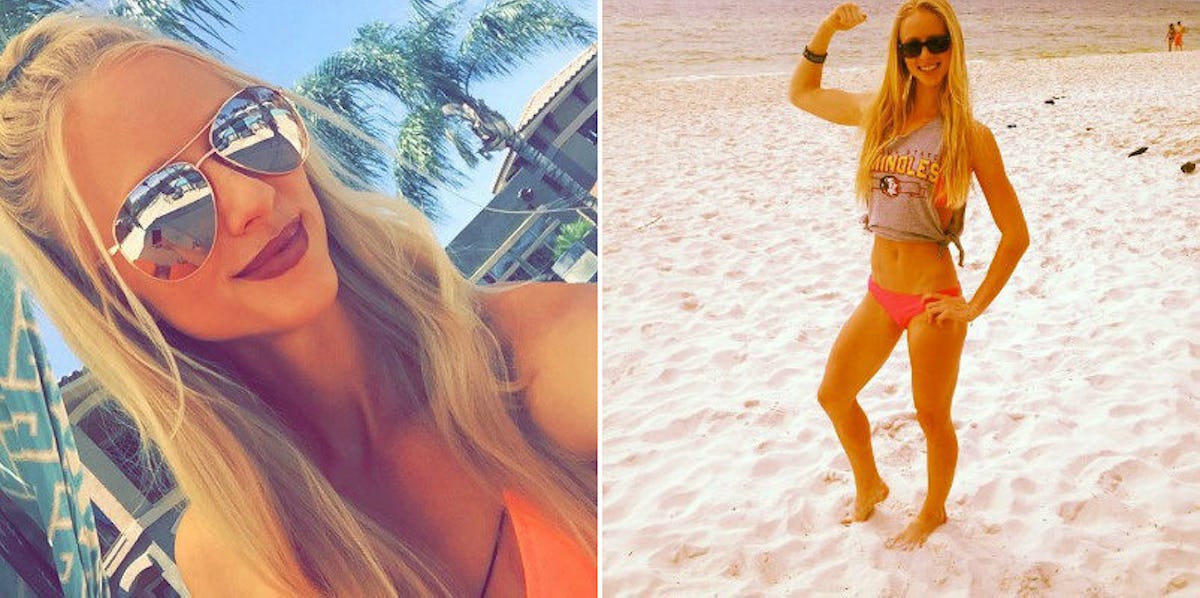 This Canadian Hurdler Competing In Rio Might Be The Hottest Olympian Yet
We've had no shortage of sexy, attractive and talented athletes at the 2016 Summer Olympics in Rio, but Canadian hurdler Sage Watson might be the hottest Olympian in Brazil.
The gorgeous 22-year-old Medicine Hat, Alberta native competed in the women's 400-meter hurdles in Rio and attends the University of Arizona. And let me tell you, this Wildcat is wildly attractive.
Watson finished fourth in the third semifinal of the 400-meter hurdles competition, which means she fell just one place short of having the chance to compete for a medal in the finals.
The world is a cruel place, and life isn't fair!
Don't worry, though, guys, because I can almost guarantee if she stays healthy, this talented Canadian blonde bombshell will be competing in Tokyo four years from now at the next Summer Olympics.
So, here's a closer look at Sage Watson, the future of the hurdles competition and quite possibly the hottest Olympian to compete in Rio this month.
Canadian Hurdler Sage Watson, 22, competed at her first Olympics this month in Rio.
After finishing with the second-fastest time at the Canadian Olympic trials, Watson participated in the women's 400-meter hurdles competition in Brazil.
She made it all the way to the semifinals of the competition, but ultimately fell one place short of competing for a medal in the finals.
Sage Watson started her collegiate track and field career at Florida State University...
But she transferred to the University of Arizona and now competes as a Wildcat.
Obviously, this gorgeous blonde bombshell has achieved All-American status in every year of her undergrad education.
In 2015, Watson competed for team Canada at the World Championships in Beijing, China, where she made the semifinals of the 400-meter hurdle event.
In 2013, Watson traveled to Medellín, Colombia to participate in the Pan American Junior Championships.
At that event, she finished first in the 400-meter hurdles competition.
Unfortunately, Watson is leaving Rio, Brazil without a medal...
...but that's only going to motivate this gorgeous hurdler to come back stronger four years from now.
So look out, Tokyo, because Sage Watson is coming.
Citations: University Of Arizona Hurdler Sage Watson Makes A Solid Case For Hottest Olympian In Rio (BroBible), sagewatson (Instagram)