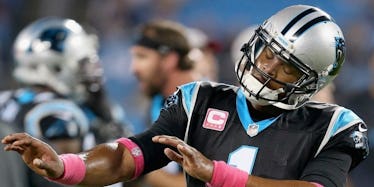 Cam Newton Responds To The People Hating On His SB 50 Press Conference
Getty Images
Even after learning the most likely reason Cam Newton abruptly ended his Super Bowl 50 press conference on Sunday, folks are still up in arms about the Carolina Panthers quarterback handling himself like a sore loser.
They're probably thinking,
He has an obligation to the game! He has an obligation to the fans! He has an obligation to all of us!
And on and on it goes. But here's the thing: Despite the fact Cam Newton doesn't have an obligation to anyone other than his teammates and employer -- I'm looking at you, sports writers and radio hosts of America -- he absolutely upheld this perceived obligation to everyone.
Cam was visibly upset after losing the biggest game of his career and arguably the most coveted prize in sports. Why should anyone expect him to act otherwise?
Tell you what, if I'm a fan of the Carolina Panthers, that's exactly what I want to see. I want to see my best player pissed off about losing. I want to see him as dejected as I am. And for all the writers who are upset about Cam giving short answers and not a lot of quotes, that's the goddamn story right there.
You should know, you've been pushing it all week.
I'm sick of this double-standard nonsense. I'm sick of middle-aged white dudes, who never took a punch, let alone a hit from a 300-pound defensive end, using their platforms to throw stones at a black guy who gives 110 percent every time he takes the field.
Today, Cam responded, yet again, to the haters. Speaking at his locker in Charlotte, North Carolina, Cam reportedly said,
I've been on record to say I'm a sore loser. Who likes to lose? You show me a good loser and I'm going to show you a loser.
Well said, Cam. Cam's no loser, which is why he was so upset about not winning the Super Bowl. Shame on him.
Oh, and he took the last part of his quote from Vince Lombardi, someone who knew a thing or two about winning.
Cam also reportedly delivered the following quote, which shows he's not just a great quarterback, but also a great man.
Cam: "I don't have to conform to anybody's wants for me. I'm not that guy. This is a great league with or without me. I am my own person." — Joe Person (@josephperson) February 9, 2016
Keep doing you, sir.
Citations: Cam Newton quotes Vince Lombardi while defending 'sore loser' Super Bowl news conference (FOX Sports)