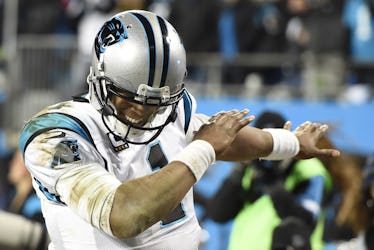 Cam Newton Says He's Replacing The Dab With A New Celebration Next Season
USA TODAY Sports/REUTERS
The NFL's reigning MVP and all-around flex king, Cam Newton, is making a change this upcoming football year.
During a radio interview in Charlotte, the Carolina Panthers quarterback said he'll retire doing the Dab as a touchdown celebration next season, reportedly stating,
I have to put that aside.
But that doesn't mean he's done shining on everyone after reaching the end zone. Judging by his response when asked what will replace the Dab, it sounds like he'll just find a new go-to move.
He reportedly said,
I have time, I have until September to find out.
Clearly, losing in the Super Bowl did nothing to deter the 27-year-old from celebrating like he always does. So it looks like we'll have the same stuntin', showboating, dancing-at-every-opportunity-available Cam Newton next season.
And, not to mention, Cam's got way more in arsenal than the Dab. Who else you know who can transition from a 1950s-style twist to a Superman.
Besides, it's probably best Cam put the Dab out of its misery. After he popularized it, people who didn't have nearly enough rhythm or coordination to try the Dab proceeded to beat it like a dead horse.
And then, Bill Gates officially put it on life support.
RIP.
Citations: Cam Newton: It's time to retire the Dab, do something else (ESPN)