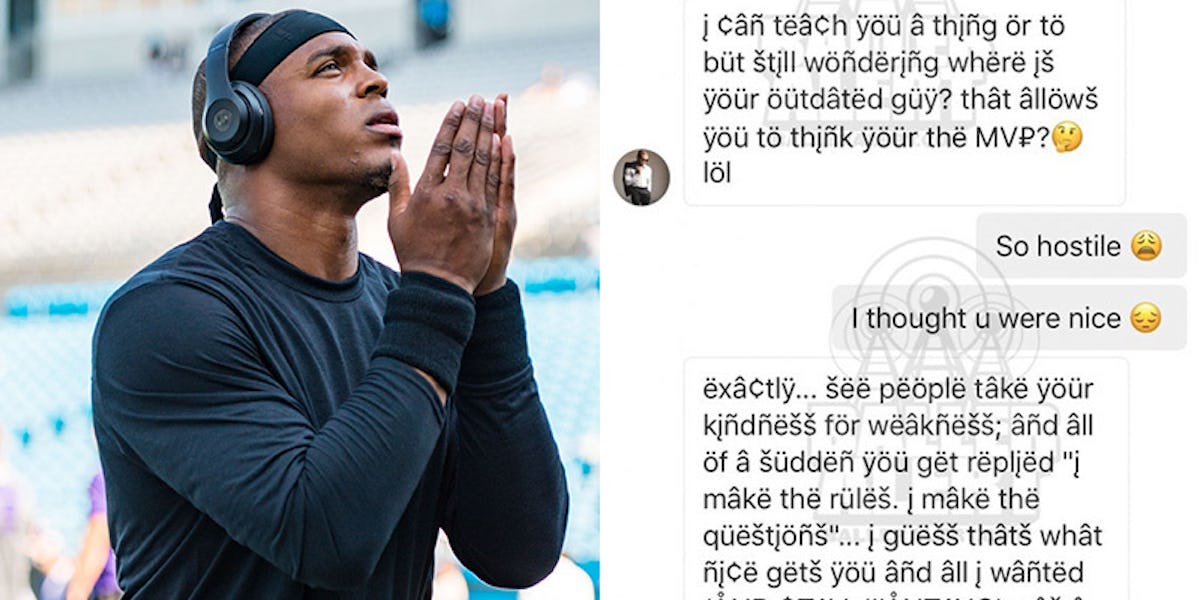 Cam Newton Got Caught Sliding Into Woman's DMs — And She's Not His Fiancée
Instagram
We thought we already got the weirdest NFL news this week, but Cam Newton sliding into someone's DMs is definitely a top contender.
The NFL's reigning MVP got caught messaging a married woman according to Baller Alert, which published screenshots of an apparent conversation between the Carolina Panthers quarterback and the owner of an online clothing store.
So, if you've ever wondered how Newton spits game on social media, here's your answer: in the weirdest way possible.
In case you aren't familiar with Egyptian hieroglyphics, here's basically what Cam Newton said:
First, he had a joking back-and-forth with the woman about how much money he makes. Then, he took a shot at practically every man she's ever dated.
He says at one point, and I quote,
I can tell you been fuckin' wit some REAL sucka ass guys my KILLA!
Yeah.
Anyway, the published screenshots appear to only capture parts of the conversation between Newton and the woman, so we can't see the initial messages.
But according to Baller Alert, the woman told the 2010 Heisman Trophy winner she was married by the time the conversation reached the point portrayed in the screenshots.
Still, Cam kept at it.
Even after the woman stops replying, Cam appears to ask her out. He says,
I'm heading home to atl for a couple days. would like to link wit' you for a light lunch or dinner my KILLA... if you up for it...
Now, I'm sure some of you KILLAS have a few questions here, so let's roll through 'em.
Why is Cam writing like he's trying to bag Cleopatra?
Literally everyone's been trying to figure that out, most notably after Newton posted this photo and caption about his relationship with Kaepernick.
So yeah, pretty much no one knows what he's saying anymore. But it makes things that much funnier.
Moving on...
Isn't Cam in a relationship?
It looks like it. As of now, all signs point to him expecting a second child with his longtime girlfriend, Kia Proctor. There are even rumors that the two are engaged.
Here's a picture of Newton's first son wearing one of his dad's hats, being carried by his mother.
All in all, it looks like Cam got caught red-handed. And here we were thinking the Panthers 1-4 start was his only problem.
Citations: Baller Alert