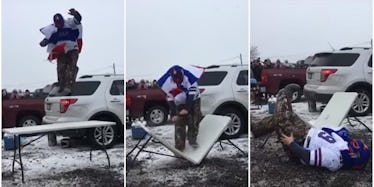 Buffalo Bills Fan Snaps Leg In Half Jumping Through Table At Tailgate
YouTube
Buffalo Bills fans are known for their unholy tailgating antics.
So this video of a drunk guy in a Mexican wrestling mask jumping from the roof of a car onto a table and completely snapping his leg in half shouldn't come as a surprise. But it doesn't make it any less gnarly.
It happened outside New Era Field when the Pittsburg Steelers were in town for the game on Sunday (Bills lost 20-27, FYI).
Things were getting uber rowdy, as they do in Buffalo, so obviously this fan got egged on to climb a car.
The video opens with a baying crowd surrounding a man who looks ready to do anything for attention (my favorite kind of person).
He gets into the crouching tiger position — poised just like a coiled spring.
The fan launches for full send.
"I BELIEVE I CAN FLYYYY."
But he's airborne for a disappointedly short amount of time and comes crashing down on the table.
This is the exact moment he realized his day just changed for the worst.
His knee buckled under the impact, causing his lower leg to snap and face the opposite way in scenes that'll DISGUST YOU.
Pain. PAIN IN THE GLAVIN.
Hell. Painful, snowy hell. Never has anyone sobered up so fast.
His technique was all wrong. Surely you're supposed to land on the table with your ass, not power through it with one leg. The idea was great, but the execution was beyond poor.
The whole thing was caught on camera by a number of people and — of course — posted on YouTube. This one's in slo-mo, but be warned: It will make you recoil in horror/want to go to a Buffalo Bills tailgate.
Here's the fall in real time from another angle. It's not as graphic, but the pain is still just as savage.
Stay safe out there, fans.