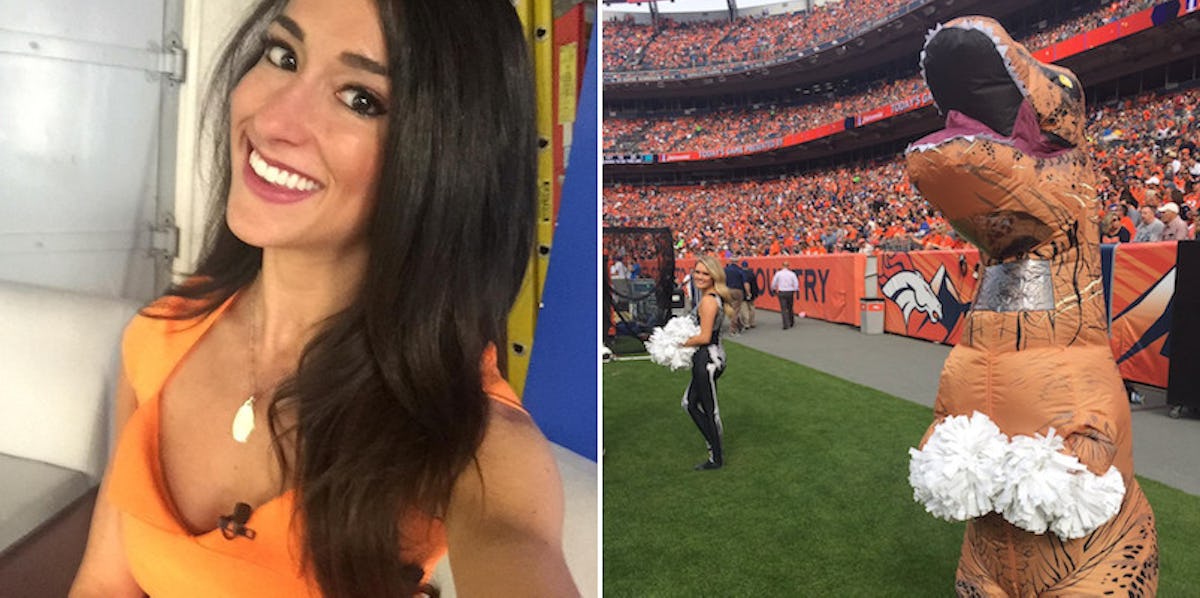 Everyone's Falling In Love With This Broncos Cheerleader's T-Rex Costume
Instagram
It's safe to say the Denver Broncos cheerleaders had the sexiest Halloween costumes that were still suitable for national television. However, there was one costume in particular that completely stole the show.
The talented cheerleaders took the field to perform their dance routine sporting a slew of sexy costumes including Mario, Luigi, a butterfly, a cheetah, Waldo, a pirate, Wonder Woman and more.
Now, those costumes are creative and all, but the game was TOTALLY changed when a cheerleader wore an inflatable T-Rex costume.
Not only did it surprise the crowd, but it also showed off some pretty impressive dance moves.
According to Cosmopolitan, the mastermind behind the sexy T-Rex costume was a CBS Denver Broncos reporter with a knack for being silly and making everyone laugh.
She certainly got the job done with this one...
It's safe to say this cheerleader had the best Halloween costume during the Chargers/Broncos game! It's so sexy.
Trust me. There's nothing better than watching a T-Rex show off its precious dance moves.
Team reporter and cheerleader Romi Bean admitted to being the T-Rex costume-wearing "team clown" on Twitter.
Here's an even better angle. Look at that form!
Some fans were so blown away by the sexy T-Rex, they want an all T-Rex cheerleading squad. That is NOT a bad idea...
The T-Rex costume was such a success, someone even made this hilarious mashup video for it.
Romi, you killed it!
All of the other cheerleading squads in the NFL are going to have to go back to the drawing board and make sure they have their Halloween festivities strategically planned out next year. The Broncos are untouchable this Halloween.
You know, sports teams should really step their Halloween game up...
As a matter of fact, in addition to defensive and offensive coordinators, I think it'd be incredibly beneficial for everyone if every team had its own Halloween costume coordinator.
Priorities, people!
Citations: This Broncos Cheerleader Dressed as a T-Rex Won Halloween (Cosmopolitan)