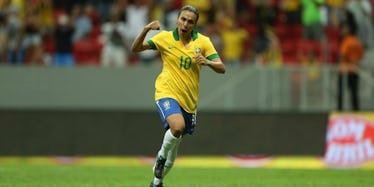 Even With The Top Player In The World, Brazil Doesn't Care About Women's Soccer
Facebook
After winning all three of their group stage matches, the Brazil women's national team heads into the Round of 16 of the 2015 World Cup with the utmost confidence.
And why shouldn't they?
Not only did the Canarinhas collect nine out of nine points in Group E play, they're the only team yet to concede a goal this tournament.
Brazil came to Canada as the seventh-ranked team in the world, but are looking increasingly like one of the top favorites to lift the trophy on July 5 in Vancouver.
They are led by their 29-year-old captain, Marta Vieira da Silva – just Marta, please – a five-time FIFA World Player of the Year and the all-time leading goal scorer in Women's World Cup history.
The talismanic forward, who is playing in her fourth World Cup, has scored 92 goals in 95 matches for her country, and is arguably the top female player in the world, but that has done little to command attention for herself, for her national teammates and for future generations of Brazil's female soccer stars.
Examples of sexism and double standards have been well documented at the 2015 World Cup, but if turf fields and gender verification aren't enough, consider this:
A soccer-mad nation that has been synonymous with the beautiful game for as long as anyone can remember, has an ugly history of ignoring and dissuading its top female futbolistas.
Marta and her comrades have been cast aside for years and, unfortunately, capturing their first World Cup title might do little to change that.
From a young age, Marta has had to fight for her soccer life on several fronts.
In Brazil, female players are faced with sexist opposition at every turn.
The country's football federation does not support the women's game, fans rarely watch the women's team and even female footballers' parents don't approve of their daughters' participation in the sport.
From 1941 to 1979, it was against the law for women to even kick a ball in Brazil.
Marta was beaten up by her brothers when they caught her playing soccer, and her father strongly disapproved of her playing the national sport.
At the age of 14, the Dois Riachos native was forced to leave home to pursue her professional soccer dream; taking a three-day bus trip to join Brazilian club side Vasco da Gama.
She played there for two years, cementing herself as one of the best in the process, but the club was ultimately abandoned for financial reasons – a fate that has befallen many a women's soccer team around the world.
Marta sent the money she made at Vasco back home to her mother, but it was pennies compared to what men make.
Brazil's wage disparity is so ridiculous that Nene, a former leading scorer, quit Santos FC because she was able to make more money working in a toy factory than playing on a soccer field.
Marta played for Santos' women's team, too, in 2011. The club ultimately decided to dispense with the women's program, though, so that they could pay Brazilian men's star Neymar whatever they needed to ensure he didn't leave Santos' men's team for a top European side.
Neymar signed for European giants Barcelona in 2013.
Santos' men's coach said,
I didn't say that Neymar was guilty for the end of women's football. What I said is that the goal of Santos is to have professional football that can last for hundreds of years. Other side activities [like the women's team] are possible when possible.
Without support from the Confederation of Brazilian Football, the women's team has struggled to create a national platform.
Whereas a team like the United States draws heavily on the support of its soccer federation and fans, Brazil is largely on their own.
#USA players greeted the ones they inspire after FT. Great atmosphere @bcplace tonight! #FIFAWWC pic.twitter.com/NdkDst8QJL — FIFA Women'sWorldCup (@FIFAWWC) June 17, 2015
Brazilian fans won't go to bars, let alone matches, to watch their ladies play, but prisoners in American jails make sure they never miss a women's game.
The national newspaper, O Globo, highlighted a men's friendly match against Honduras instead of Marta's record-setting goal scored in Brazil's 2015 World Cup opener.
And the words of Marco Aurelio Cunha, women's soccer coordinator for the CBF, show just how far off the country is in terms of development:
Now the women are getting more beautiful, putting on make-up. They go in the field in an elegant manner. We used to dress the girls as boys. So the team lacked a spirit of elegance, femininity. Now the shorts are a bit shorter, the hair styles are more done up. It's not a woman dressed as a man.
But isn't this type of stone-age thinking par for the course?
Not only did FIFA's disgraced, lame duck president, Sepp Blatter, say that short-shorts were a viable solution for increasing the popularity of the women's game, he once confused US star Abby Wambach's wife for Marta at an awards ceremony.
Imagine Cristiano Ronaldo or Lio Messi winning the Ballon d'Or, and Blatter hugging one of their boys instead.
Kobe Bryant has more respect and knowledge of Marta than most of Brazil and Blatter:
My daughter [Natalia] plays AYSO soccer, right. She's only 6, but she [recognizes] what's amazing. What [Marta] does is phenomenal. It's incredible. Marta's gifted, man. The things that she does on the pitch, I've just never seen anybody do, male or female.
Marta had to agree to a pay cut just to play for her current club, FC Rosengard, in Sweden.
Again, imagine Messi or Ronaldo reaching out, volunteering to play for a fraction of what they're worth.
Despite repeatedly being put in a position to fail, Marta and Brazil continue to be a force on the field.
This year marked the first time in history Brazil's women's team held an actual training camp before a World Cup, which is remarkable if you consider their past success in the competition.
A third place finish at the 1999 tournament occurred despite that year's team only practicing once or twice a week.
And in 2011, Marta and her teammates reached the quarterfinals, even though they arrived in Germany just days before the tournament kicked off.
The latest head-scratcher is the appointment of this year's coach, Vadao, who is part of the men's setup and knows Marta and her teammates about as well as anyone with Internet access.
Cunha, the forward-thinking Brazilian football official, defended the appointment, of course.
Well, get me a Brazilian astronaut to teach other astronauts here: It's the same thing. We don't have coaches, female coaches.
Someone should definitely nominate this dude for the Brazilian space program.
But still, Marta and the rest of the squad don the yellow and green jersey that has become an icon of the sport. They play with pride, passion and a sense that they can still make a difference for young girls back home.
In an interview with USA TODAY, Marta said,
We are hungry to win the World Cup. But we also want to inspire girls in our country to play and to believe in themselves.
Regardless of what happens in the knockout rounds, it could be more beneficial for Marta to return home with that inspiring sense of self-belief than a trophy.