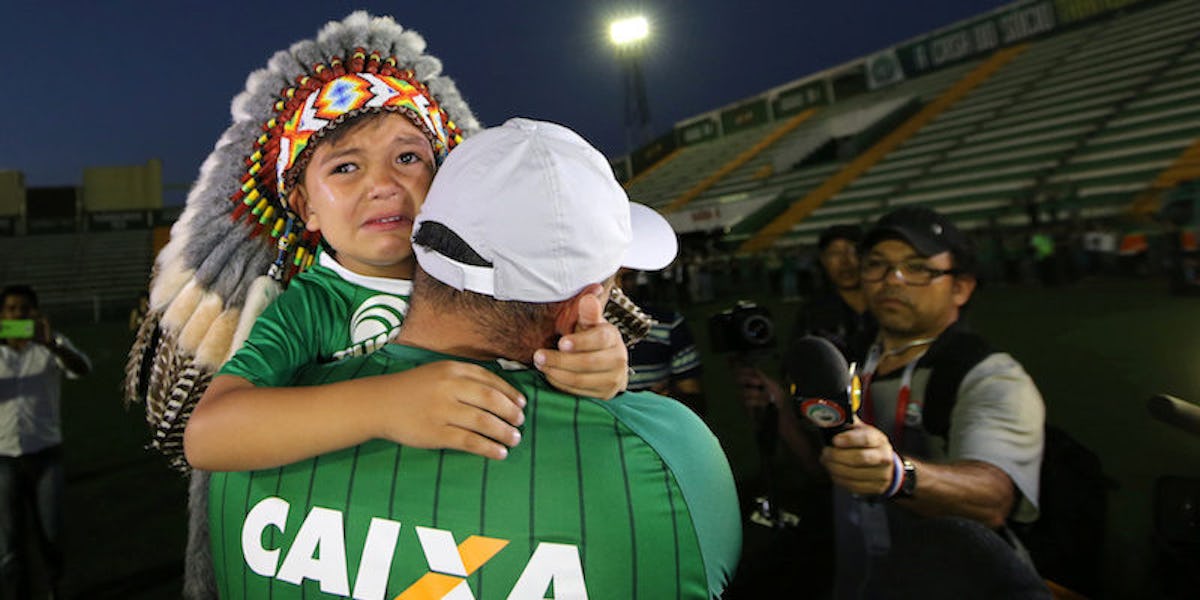 Boy Sits Alone In Stands Mourning Soccer Players Who Died In Heartbreaking Pic
REUTERS
A heartbreaking photo has emerged showing a boy sitting alone in Chapecoense's Arena Conda stands after a plane crash claimed the lives of the soccer team's players.
The poignant image shows the fan wearing an ACF top with his arms folded staring at the ground.
Doctors are continuing to treat the six survivors at hospitals in Colombia today.
A total of 71 people were killed when the plane went down near Medellin on Monday night.
The survivors were three Chapecoense players, a journalist and two crew members.
Goalkeeper Jackson Follmann is recovering from a leg amputation, reports REUTERS.
Defender Helio Neto was placed in intensive care with severe trauma to his skull, thorax and lungs.
Another defender, Alan Ruschel, suffered a spinal injury and has undergone surgery.
Survivor Erwin Tumiri, a Bolivian flight technician, said following the safety instructions saved his life. He told Colombia's Radio Caracol,
Many passengers got up from their seats and started yelling. I put the bag between my legs and went into the fetal position as recommended.
Investigators have flown over to Colombia from Brazil to examine the two black boxes found in the wreckage.
The pilot is believed to have contacted a control tower to say he was experiencing electrical problems on board.
It broke in two after crashing into a mountain five minutes away from its destination.
Some soccer players had taken Snaps of their journey. In one Snapchat video, they reportedly told their fans, "We're coming to Colombia."
Yesterday, another upsetting photo emerged. It shows players sitting in the Chapecoense locker room in disbelief as the news unfolded.
The team was due to play Atletico Nacional of Medellin in the Copa Sudamericana final.
Yesterday, soccer teams around the world were paying tribute as rescuers sifting through the wreckage to remove bodies.
Federico Gutierrez, Medellin's mayor, branded it a "tragedy of huge proportions."