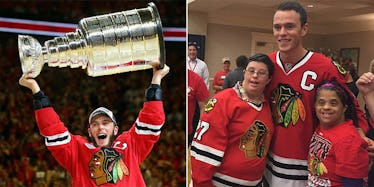 NHL Player Brings The Stanley Cup To Surprise Fans With Disabilities (Photos)
NHL superstar Jonathan Toews is a lot of different things to a lot of different people in the Chicago area.
The 27-year-old is a teammate, a leader on the ice and a hero to Blackhawks fans.
Toews knows this, and that's why he recently gave back to a select group of fans in the most awesome way possible.
This week, the Winnipeg, Canada native brought the Stanley Cup to the Misericordia Heart of Mercy, an organization caring for adults and children with developmental disabilities.
Misericordia's spokeswoman, Lois Gates, reportedly said,
They were all fired up, and then in walks Jonathan Toews along with the cup, the coveted cup. Our residents were over-the-moon happy and excited to see him.
Gates added,
He's a superhero to our residents on and off the ice. He was so compassionate and so caring to all of our residents, but especially those that were most vulnerable, that have special needs.
Toews visited Misericordia before, but this was his first visit with the Stanley Cup.
Misericordia told residents a Blackhawks mascot would be visiting the home.
But the residents were in for quite the shock once Toews emerged with the Stanley Cup in hand.
Being the awesome individual he is, Toews took a lot of pictures with the people in attendance.
He even brought an honorary jersey for Sister Rosemary Connelly, the director of Misericordia.
Whether or not you're a Blackhawks fan, you have to applaud Toews...
...because this is one of the coolest things a professional athlete has ever done.
You rock, Toews.
Citations: Jonathan Toews Surprises Residents of Misericordia With Stanley Cup Visit (DNAinfo)