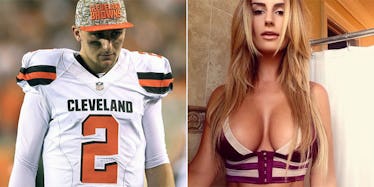 This Is The FSU Bikini Model Who Allegedly Slept With Johnny Manziel
Getty Images/Instagram
I'm pretty sick and tired of hearing about the countless stories involving Johnny Manziel getting drunk at a club somewhere, but this story about the probably soon-to-be former quarterback of the Cleveland Browns piqued the interest of many.
Bianca Ghezzi is a bikini model from Florida State University, and if you believe this story, she recently slept with Manziel at a $4,100-a-night villa in Miami, Florida.
In fact, there's a Snapchat story Ghezzi posted to Instagram that shows a dude lying in bed with a chest tattoo that looks exactly like Manziel's.
Speaking on the recent rumored events, Ghezzi reportedly said,
[Manziel's] having a tough time. We're trying to keep his mind off the court case.
The court case Ghezzi is referring to is the domestic violence charge Manziel will soon face in front of a grand jury for allegedly assaulting his ex-girlfriend, Colleen Crowley, back in January.
In any event, here's a closer look at Bianca Ghezzi, the woman who's now heavily entangled in the latest chapter of the Johnny Manziel saga.
Bianca Ghezzi is the Florida State University bikini model rumored to have recently slept with Johnny Manziel.
She posted a video on Instagram, which, based on a chest tattoo, appears to show Manziel lying in bed.
According to Daily Mail, Ghezzi claimed things got sexual in a very expensive waterfront villa in Miami.
She allegedly said she's just doing her part to keep the NFL player's mind off his upcoming domestic violence case.
I mean, I could see how Ghezzi might be just a bit distracting to some dudes.
She has what some might call an unbelievable body.
And, right now, between all the negative press and his impending court case, Johnny Manziel could probably use all the distraction he can get.
You have to wonder, though, considering how willingly she released the details of their time together in Miami, if Ghezzi really has Johnny's best interests at heart.
Either way, I doubt this is the last we'll hear of Bianca Ghezzi, and it's definitely not the last time we'll see Manziel's name in the headlines.
Citations: FSU Bikini Model Posts Video in Bed With Johnny Manziel on Instagram (Video + Pics) (Total Pro Sports), EXCLUSIVE 'He's having a tough time - we're trying to keep his mind off the court case': Miami swimsuit model's steamy night with Johnny Manziel at his $4,100 a night waterfront villa revealed (Daily Mail), Johnny Manziel domestic violence case sent to grand jury (ESPN)