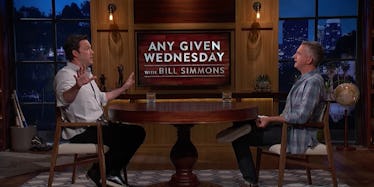 Ben Affleck Just Went On The Most Insane Rant About Deflategate
YouTube/Any Given Wednesday
When Ben Affleck was announced as a guest for the inaugural episode of HBO's "Any Given Wednesday with Bill Simmons," it was hard to predict how things would go.
Would he talk about acting or would he talk about sports? After all, Simmons is known for killing the pop culture game, too, so it was a legitimate question.
The answer? Sports, definitely sports.
There are no two ways around describing his performance. Affleck went all in on Wednesday night, going on an expletive-laden rant in defense of Tom Brady in regard to the Patriots quarterback's involvement in Deflategate.
In other words, your boy Ben kept it 100.
He ripped Roger Goodell, stating the NFL commissioner lacks the integrity and decency to just squash his beef with Brady, particularly when it's become so clear how ridiculous the dispute is.
He ripped the others teams around the league for sheepishly jumping in on a "smear campaign" against Brady that has little merit.
He talked about how many other players told him Deflategate is BS; he talked about the investigative process; he even talked about the potential content of Brady's text messages.
Affleck pretty much did it all, and practically fit in an F-bomb in between every two words. Regardless of whose side you're on, you'll enjoy the rant. Either that, or you just can't be entertained, I'm convinced.
Peep the vid in the player above.
Citations: Ben Affleck goes on profane anti-NFL deflate-gate rant (Yahoo)