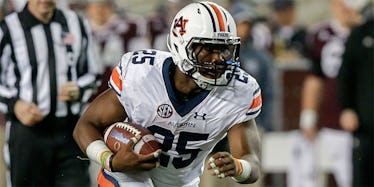 College Player Enters NFL Draft Early To Help Out His Homeless Mom
Getty Images
Peyton Barber is leaving school early to enter the NFL Draft, and his motive for doing so is simple.
He explained,
My mom, she's homeless right now.
Barber, who played running back at Auburn University, had the option of finishing his degree and playing more college football, of course. But, his situation clearly called for action, which he expressed pretty bluntly in this video.
I'm officially rooting for Auburn RB Peyton Barber pic.twitter.com/rhxrWHr6Zx — NFL Retweet (@NFLRT) February 24, 2016
For now, Barber said, his mother is staying with his sister and her three children in an apartment.
Peyton's father, Ken Barber, claimed the situation wasn't as urgent as media outlets portrayed it to be, but this story still brings something to the table worth noting.
The status of a player's family is often taken for granted within the public discourse of college athletics, particularly when it comes to the question of how long student athletes should remain in school.
The decision of whether or not to stay in college for a full four years, therefore, isn't always just a matter of weighing a payday against a complete college education.
Barber's story, whatever the specifics, is a reminder of that.
Citations: Peyton Barber Declares For NFL Draft To Help His Homeless Mom (Huffington Post), Peyton Barber's father offers context to running back's 'homeless' comments at NFL scouting combine Read more here: http://www.ledger-enquirer.com/sports/college/sec/auburn-university/war-eagle-extra/article62324937.html#storylink=cpy (Ledger-Enquirer)