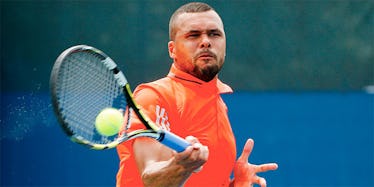 Elite ATP Picks: Count On Tsonga To Power Through Fitness Concerns
Getty Images
Nights like last make this life of degeneracy worth it, folks.
Things got off to a fast start with our boy Gaba pulling off the upset of Leo Mayer at +195, who had difficulty holding his serve from the opening game and continued into the second match of the evening -- in which Mahut got it done in straights against Mannarino, as tipped.
As the night progressed, not even the rain in Auckland could put a damper on our parade -- as both Fognini and Querrey won their matches following the rain delay in New Zealand -- and Rosol capped our night off from Sydney with a straight set victory over GGL.
Five for five; let's keep it rolling.
Look, I'm not going to sugarcoat this, guys: I f*cking love tonight's slate. There are a number of cheaply priced favorites that I'm intrigued by -- including John Isner, Fabio Fognini, and Jo-Wilifried Tsonga -- but they're not as straight forward as they might appear at first glance.
Querrey has been known to handle the booming serve of Big John, and Fogna is always difficult to back in two consecutive matches; so, instead, I look to Jo-Willy to handle business against Philipp Kohlschreiber -- who he's owned over the years.
Elsewhere, I like the looks of Kevin Anderson at -265 to outmatch Robin Haase. I also think a guy like Dom Thiem should be able to dictate points against Gilles Müller, but it's a very tricky matchup, so I'll probably end up staying away.
Season Totals: 10-4 (71%) +6.25 units
Sock -140 over Pospisil
Sock and Pospisil -- or Pospisock -- are two of the closest players on tour.
Aside from being BFF, the two are also Wimbledon champs as doubles partners, which means each of them will know aspects of the other's game, making this a very provocative clash to watch.
This match had to happen sooner or later, despite the two's close bond. And while Vasek Pospisil may be a bit apprehensive about damaging their friendship, we know the fiery American Jack Sock will hold nothing back from his old pal.
I expect big things from Sock, frankly. I think if he can continue to show the type of consistency he played with last season, he stands a decent chance to crack the top 10 in 2016.
He's got a sizzling forehand, capable backhand and strong enough serve to keep opponents on their heels.
Although the two players' games might be very even from a skill perspective, I tip the American tonight because of his desire and strategy.
It'll probably be a long match -- it'll probably be ugly -- but I fancy Sock to prevail.
Prediction: Sock in three (5-7, 6-2, 6-4)
Robredo +120 over Troicki
Viktor Troicki has definitely looked improved from his second half of last season, although I'm not convinced how much -- at least not yet.
Tonight he faces Tommy Robredo, who refuses to show any signs of aging, and will surely try and rally with Troicki forehand to forehand.
If Robredo can extend points and force Troicki to hit winners from the baseline, I think he will stand a fair shot to win the match.
Robredo is a much more dependable hitter -- and I still have my doubts about Troicki's forehand. Owning a 4-2 head-to-head record against the world No. 22, Robredo has proven that he can handle the Serb in the past.
With + odds, I have no apprehensions about backing the Spanish veteran Robredo to extend his supremacy over Troicki. Tip Robredo, here.
Prediction: Robredo in three (6-4, 3-6, 6-4)
Tsonga -155 over Kohlschreiber
Of all the -150-ish matches this evening (Isner, Fognini, Tsonga, Thiem, Seppi), I think Jo-Wilfried Tsonga is the safest.
Usually, -155 for Tsonga against Philipp Kohlschreiber would be a steal (given his history against the German), but -- after withdrawing from Abu Dhabi with a forearm injury -- there are some slight fitness concerns regarding the world No. 10.
Yet, after hearing the Frenchman downplay any injury doubt, I'm willing to go ahead and back him at a discounted price in Auckland.
Tsonga is 8-1 against Kohly over the years, with the only loss coming after a clay court defeat on Kohlschreiber's native German soil, back in 2009.
As long as Jo is healthy, I see him winning this match in relatively straightforward fashion, especially if Kohly is backing the under, himself.
Prediction: Tsonga in two (7-5, 6-2)