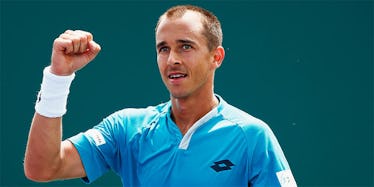 ATP Elite Picks: Rosol Can Get The Best Of GGL In Auckland
Getty Images
Our first week of the season ended on a high note, as we saw both of our plays at the weekend result with wins.
In Brisbane, Tomic was able to cover the game spread, albeit by a narrow margin, falling to Raonic in two breakers, and Djokovic cruised to a straight set win over Rafa Nadal in Doha, finally providing the world no.1 with a slight edge in their rivalry (now at 24-23 all time).
Today, we look to extend our luck into the second week of the season; where action will kick off from Auckland and Sydney tonight around 18:15 EST.
In Auckland, we'll see some big names like John Isner and Jo-Wilfried Tsonga begin their seasons while Sydney will flaunt the likes of Bernard Tomic, Dominic Thiem and Grigor Dimitrov.
After looking at tonight's slate, there is surely no shortage of intriguing match-ups, so let's dive right in.
Gabashvili +195 over Mayer
To put it bluntly, I've never really been a huge fan of Leonardo Mayer -- especially on hard surface.
Despite his strong serve and forehand on faster surfaces, his game can become sort of clunky and predictable and I think Teymuraz Gabashvili will be able to get the best of him in longer rallies.
When he's on, Gaba can pulverize his ground strokes, and I look for him to attack the Argentine's backhand all match from the baseline.
With an even 1-1 head-to-head record between the two, and the Russian winning their last contest, I feel as though a +195 price on Gabashvili provides enough value to take the flyer.
Expect a long match here, with a lot of games; back the Russian to come out on top.
Prediction: Gabashvili in three sets (6-4 3-6 6-4)
Mahut +115 over Mannarino
I'm not sure what possessed layers to rule Nicolas Mahut the underdog versus fellow Frenchman Adrian Mannarino, considering how excellent he's been against him over the years. Carrying an impressive 5-0 record against Mannarino into Sydney, I expect him to make it an even 6-0 tonight.
It won't be a "gimme," though, by any means. After winning his Challenger tournament last week in Nouméa, Mannarino appears to be coming into this match with some decent form.
Still, I feel as though Mahut knows how to break down his game, employing his chip and charge tactics, and fancy Mahut to extend his dominance over his compatriot.
Prediction: Mahut in two sets (6-3 7-6)
Fognini -115 over Sousa
When it comes to pure shotmaking ability, few players are as awe-inspiring as the mercurial Italian, Fabio Fognini -- who meets another free-swinging shotmaker in João Sousa, tonight.
Clashes between the two have been tightly contested in the past, and I expect tonight to be much of the same, probably requiring three sets to reach a result.
Given both of their expressive natures, I feel as though the more mentally prepared player will probably go thru to the next round -- and I suggest backing the Italian to show his class in Auckland.
Prediction: Fognini in three sets (7-6 2-6 6-2)
Querrey -135 over Bedene
Aljaž Bedene had a decent run in Chennai, before losing a tight three setter to Borna Ćorić in the semifinal. Tonight, he meets American Sam Querrey -- who kicks his season off in Auckland, and presents a much bigger challenge for the Brit.
After a long tournament in India, Bedene finds himself with only two days to travel to New Zealand and prepare for Querrey -- a tall task, especially looking ahead to the Australian Open, only a week away.
Although their serve and return numbers on hard courts are pretty similar, if Querrey can hit first serves and avoid making unforced errors, I fancy the American to start his season off on a positive note tonight.
Prediction: Querrey in two sets (6-3 6-3)
Rosol +110 over García-López
I love Lukáš Rosol tonight on the plus side of the odds against Spanish clay court specialist Guillermo García-López.
In their last match, which came in Bercy, Rosol proved that he can completely outhit GGL. Although the match went three sets, Rosol was clearly the superior player; winning the first set 6-2 and jumping out to a 5-0 lead in the third. The issue with Rosol, however, is he tends to play in spurts.
That said, I fancy the Czech to play a complete match tonight and take out the aging Spaniard in Auckland. I believe he is the superior player and, at these odds, is surely worthy of a crack.
Prediction: Rosol in two sets (7-5 6-4)