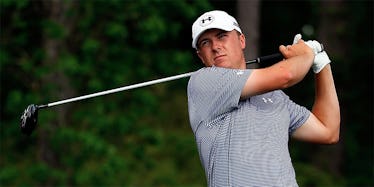 Stars On Deck: 6 Athletes Who Will Dominate The Rest Of 2016
Getty Images
With the Super Bowl wrapped up last month, ago we can officially put a bow on the 2015 sports calendar year.
The year 2015 gave us countless on and off the field story lines that engaged and exited fans. But, just because the book of 2015 closes, doesn't mean there's not more to look forward to.
Let's look ahead at who will make headlines and stir the pot for the rest of 2016.
Steph Curry
If 2015 was Steph Curry's coming out party, then 2016 will be the year he proves himself to be the best basketball player on the planet.
Curry is a must-watch event in itself, separate from the actual game that begins with his ridiculous shooting warm-ups. No spot on the court is outside of his range, and just about every shot he puts up, seems like its going to go in.
If his shooting doesn't excite you enough, he can ball handle and has court vision as good as anyone in the league. Simply put, he is unstoppable.
Not hurting his cause as the most prolific athlete of 2016 is the historic run the Warriors are on pace for. As the team looks to eclipse the Bulls and their 72-win season, Curry is trying to cement his own legacy among NBA greats.
Andrew Wiggins
Andrew Wiggins was the consensus top overall pick for his draft class before he even received his high school diploma.
Wiggins had a solid rookie year, but had not even come close to reaching his ceiling yet. The first half of his second year has not disappointed either, as Wiggins has established himself as the go-to option on an emerging Timberwolves teams that looks ready to take the next step in the coming seasons.
Wiggins always puts on a show for fans, but has also polished other facets of his game, proving his skills are ever on the rise. The sky is the limit for Andrew Wiggins, and it will not be long until he is the king of the NBA.
Cam Newton
It is easy to say that the league MVP and first team all pro in 2015 will dominate 2016, but this past year, expectations for Cam and the Panthers were low, and we all saw how that turned out.
In a quarterback driven league the old guard of elite QB's including Peyton Manning, Drew Brees, and Tom Brady look to be phasing out, and by 2016 it will be Cam's league. He is the ultimate dual threat guy with blazing speed and a rocket arm, and just for good measure he is also built like a linebacker. We saw Cam get exposed by an all-time pass rush in the Super Bowl and than not handle himself well in the post-game, but with another year of seasoning and maturity Cam Newton will be the face of the National Football League.
Jordan Spieth
Similar to Steph Curry, 2015 was probably the year of Jordan Spieth winning a green jacket, the US Open, countless other tournaments, and the player of the year. But that doesn't mean 2016 will not also be his year to dominate.
Most people thought golf was in bad shape, with a fading Tiger Woods and an aging Phil Mickelson, but Spieth has taken the torch as the must-see player on the tour, and that will not change in 2016.
Jordan Spieth was a foot away from winning his third major in a row and vying for a calendar grand slam last year at the British Open. We have to assume that's his ultimate goal for this year, and it may not be so far fetched.
New York Mets Starting Rotation
The New York Mets starting pitchers have been touted as a billion-dollar rotation because of the potential of all their young arms. And baseball fans only got a glimpse of them in 2015.
Matt Harvey, Jacob DeGrom, Noah Syndergaard and Steven Matz carried the Mets to the NL east title and eventual pennant only to fall short in the World Series.
Don't forget Zack Wheeler's return in July, yikes. They all have electric arms that can blow a fastball by a batter, while also possessing the ability to make the offense look silly with an off-speed pitch.
Not only do these guys contain big arms, but they also have big personalities. Simply put: They're good, they know it and are not afraid to let it be known. The casual baseball fan may not know them well now, but it is only a matter of time until they are all household names.
Connor McDavid
The NHL has only gained popularity in recent years, and a new generation of young talent is only helping this cause. Connor McDavid is the prize of this young crop of players and rightfully so.
Being touted as the next Gretzky can come with pressure, but if it does it does appear to be affecting him. Despite missing significant time with an injury McDavid is still putting up impressive numbers and certainly not only looks like he belongs, but like the best player on the ice.
At 19 years old and playing all the way up in Edmonton, he may not be well known to many people. But a whole year of scintillating highlights of him making others look silly on the ice will only change that by 2016.