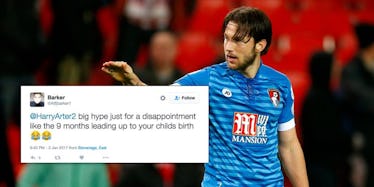 Soccer Scrub Fired For Disgusting Tweets About Player's Stillborn Daughter
Reuters/Twitter
Tuesday, AFC Bournemouth and Arsenal FC battled to a thrilling 3–3 draw in the English Premier League.
All the talk after the game should've been about Arsenal's dramatic fight back to earn a point after going down 3–0.
But thanks to the actions of one disgusting individual, the focus is now firmly fixed on something that has nothing to do with soccer.
Following the 3–3 draw, Hitchin Town's Alfie Barker, 19, posted the following tweet, which has since been deleted, directed at Bournemouth player Harry Arter.
Barker wrote,
big hype just for a disappointment like the 9 months leading up to your childs birth.
I need a second.
The vile tweet by Barker is in reference to Harry Arter's daughter who was stillborn.
For those unaware, Hitchin Town is a seventh-tier, non-league club.
Basically, this is like the equivalent of a college player at a small program tweeting at an NFL superstar.
Now that we have that out of the way, we can get back to Alfie Barker's despicable tweet.
Initially, Barker, being the coward he is, claimed his Twitter account had been hacked.
The account has since been deleted, and Barker reportedly apologized for his "disgraceful comments."
Hitchin Town fired Barker and released the following statement on the situation:
In the light of the player's irresponsible and anti-social behavior, we are terminating Alfie Barker's registration and relationship with the club with immediate effect.
Barker's former manager said,
I've seen the tweets and I'm disgusted with them. They're vile and I can't condone them in any way.
As it turns out, as of yesterday, Barker was actually on loan with another team, Codicote FC.
The club released a similar statement condemning the 19-year-old and cutting ties with Harry Arter's abuser.
We have no choice but to terminate our relationship with him. We would like to make it clear that Codicote FC cannot and will not tolerate this behavior; we have a responsibility to our community, supporters and the football family to stamp this behavior out.
Bournemouth's Harry Arter has a tattoo on his right arm in memory of his stillborn daughter, Renee.
Arter's fiancée is reportedly set to give birth to a baby girl in February.
Citations: Hitchin sack player over 'disgraceful' abuse sent to Harry Arter (Belfast Telegraph), Harry Arter: Non-league player sacked for tweet towards Bournemouth midfielder (BBC)