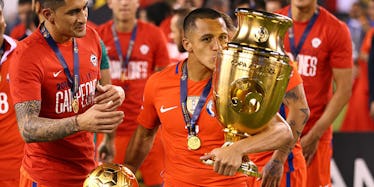 Alexis Sánchez's Gross Ankle Injury Is Every Soccer Player's Worst Nightmare
USA TODAY Sports
This might be the one time anyone who's played soccer before wishes he or she wasn't Alexis Sánchez.
While the Chilean forward usually has enough to his name to make anyone jealous -- a leading role at Arsenal, international championships and skills sent from the heavens -- on Thursday, he revealed something he has that no one will envy: a swollen ankle that will give any soccer player nightmares.
Cuarto día de mis vacaciones, encerrado en el hotel aburrido jajaja... Pero ya estoy mucho mejor. pic.twitter.com/i0KN0JBsnE — Alexis Sánchez (@Alexis_Sanchez) June 30, 2016
Just look at that thing. It's hideous! And the crazy thing about it is Sánchez's injury already looked bad enough when he first tweeted out pictures of his ankle on Monday.
Here's how it looked then:
... Aguanté todo lo que pude...y valió la pena!!! Muy feliz pic.twitter.com/vMd24DwZPw — Alexis Sánchez (@Alexis_Sanchez) June 27, 2016
Wild.
Of course, you could say Sánchez's ridiculously swollen ankle came in exchange for a worthy prize, at least. On Sunday, Sánchez led Chile to its second consecutive Copa América win, beating Argentina in the final at MetLife Stadium.
Sánchez was also awarded the Golden Ball trophy, which goes to the best player at the tournament, after he scored three goals and provided one assist in six games.
And that fact is important, too. No one would want to have this crazy injury and be as sad from a loss as, say, Lionel Messi was after losing the final.
Still, anyone who's laced his or her boots on the pitch will know the last thing he or she wants to see after a match is an ankle that looks anything like Alexis Sánchez's.
Citations: Arsenal forward Alexis Sanchez plays down injury fears and is feeling 'much better' as he recovers from nasty ankle knock (Daily Mail)